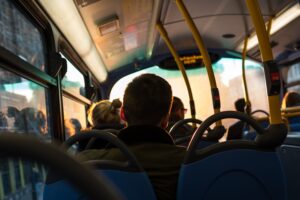 Warrington council has hit back at union claims that it unfairly sacked a driver, leading to the threat of strike action.
The union Unite believed that the sacking of the worker was a result of a targeted attack related to the worker's trade union activities.
As a result of the dismissal, a ballot was carried out revealing 83% of workers were in favour of industrial action due to bullying and unjustified sacking.
However, the council have since responded. A Warrington's Own Buses spokesperson said: "While we do not usually discuss staffing matters, we simply do not recognise the claims being made by Unite.
"A bus driver was suspended for clear breaches of our established mobile phone and safety policies, which have been previously agreed by the trade union.
"Our reasons for dismissal have been consistent and have not changed. To suggest otherwise is erroneous and there are other factual inconsistencies in Unite's press release.
"It is important to note that Unite themselves reported a very similar mobile phone breach against another employee a matter of weeks ago and demanded action be taken against the member of staff.
"This is an almost identical case, so it is unclear to us why, on this occasion, the union representatives are taking such a different stance. We believe there may be a conflict of interest here.
"We have attempted to discuss this with Unite to resolve matters and would welcome further discussions."
The worker was sacked for breaching health and safety rules after his bus broke down. The worker had taken a picture of the fault to show the engineer the problem. It was revealed that the worker had left his engine running whilst taking a picture of the vehicle's undercarriage.
The union claimed that the company has admitted that other workers had done similar things and had not been dismissed.
Unite general secretary Sharon Graham said: "Warrington's Own Buses' trumped up charges are nonsensical and spurious. This is a barely disguised attempt to get rid of this worker for carrying out his legitimate trade union duties.
"Warrington's Own Buses need to reinstate this worker immediately, otherwise this issue will be resolved through industrial and legal action. Unite never tolerates attacks on our workplace representatives and this worker has the full force of the union behind him."
residents are also facing the  prospect of bus strikes
Warrington's Own Buses is owned by Labour-controlled Warrington borough council, who are already involved in a dispute over pay with its refuse workers and are currently on strike.
Unite regional officer Colin Hayden said: "It is bad enough that Warrington council has caused the refuse strikes to escalate by failing to confirm a fair pay deal for its workers.
"Now residents are also facing the very real prospect of bus strikes because of a bullying culture that has been allowed to develop at the council's bus company.
"The completely unjustified and disgraceful sacking of a workplace rep was the last straw for Warrington's Own Buses' workforce. The council needs to show leadership by ensuring he is reinstated and taking steps to reform the company's toxic work environment."
Unite will begin formal industrial action proceedings at Warrington's Own Buses in the next few weeks.
Featured image (c) Mediocre Studios via Unsplash