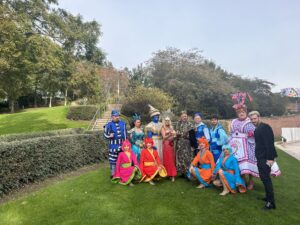 Aladdin is the latest production from Regal Entertainment which will take to the stage in St Helens in December.
Production manager Chantelle Nolan said: "We're absolutely thrilled to be working with such talented performers on this festive season's unmissable production of Aladdin.
"It is a fantastic adventure story of good triumphing over evil, and it's a real favourite with the family audiences at St Helens Theatre Royal."
The production is on the Theatre Royal stage from the 2nd December 2-January 14. The headline names in the performance include Liam Fox from Emmerdale and Leanne Campbell from Radio City. Liam was an Emmerdale star from 2011 to 2023, and has also featured in TV shows Hollyoaks and Cold Feet.
Leanne will appear by video link in the performance as if by magic, thanks to the theatre's hi-tech kit.
Watch our full video report here:
Featured image (c) Anna Rainey