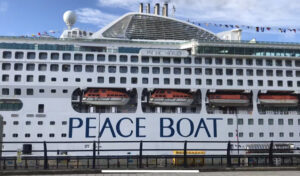 A large cruise ship promoting peace has docked in Liverpool.
The vessel belongs to a Japan-based NGO (Non Governmental organisation) with the aim of promoting peace, human rights and sustainability.
Guided by the UN's sustainable development goal, the Peace Boat offers a programme of activities based on experiential learning and intercultural communication.
With over 35 years of experience, the organisation has organised around 70 worldwide trips, visiting more than 200 ports in over 80 countries.
The current Peace Boat campaign is focusing in the tragedies taking place in Israel and Palestine. They said: "Peace Boat is horrified and distressed at the escalation of violence in Israel and Palestine, and the unprecedented loss of life."
The ship has 15 decks and weighs 77,441 tonnes. It can reach a top speed of 22.4 knots and carries 2,419 passengers.
She remained in the Liverpool docks for one night before continuing the grand 105 day voyage before returning to Japan in December.
Featured image (c) Pratham Bhagudia