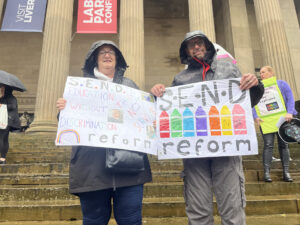 Hundreds of parents gathered outside St George's Hall on Friday protesting for an appropriate education setting for children with Special Educational Needs and Disability (SEND).
SEND Reform England is a campaign group founded by ten mothers from around the country, all of whom have children with special educational needs (SEN).
They believe that the SEND system is broken and are asking the government and local authorities for more funding and adequate training for teachers.
In recent years, there has been an increase in the number of children with SEND, but the number of special school places are very limited, leaving many parents no option but to put their children in mainstream education.
SEND Reform England said that mainstream teaching assistants and teachers are undertrained in accommodating children with complex learning disabilities due to the lack of support and funding from the government.
Protest organiser Georgina Davies from Ellesmere Port said: "The current state of SEND education is catastrophic.
"SEND education has been underfunded for years and we're now at the point where approximately 1.5m children are out of education, on reduced timetables, they've got nowhere to go to school.
"There aren't enough SEN places, there isn't the support that's needed for training teachers and teaching assistants in mainstream, and we are at crisis levels now.''
On Friday, protests took place all over the country including Birmingham, Norwich, St Albans, Newcastle, and Oxford.
The government has said that its investment in the high needs budget has risen by 60% over the last three years to £10.5bn.
Georgina said: "We want to work with the government, we just want to reach a point where parents and teachers are listened to.
"Over the years, there's been so many supposed reforms of SEND education, but they never get it right because they aren't listening to the right people.
"If they actually would listen to parents, listen to teachers, and do what they're asking, it could be easily fixed.''
Cory Ann McCarten from Kirkdale has two SEN children, Lewis, and Joseph. She said: ''My youngest has not had a school place or an EHCP in five and a half years, no support, no tutor. He's been left at home to rot.
"My eldest has been out of school for four years and three months. Liverpool City Council will not agree to any Special Educational Needs placements for both of my children.
"ECHPs are being taken away every day, the whole special needs education system is just being decimated left right and centre.
"Our children aren't getting the right to an inclusive education.''
Liverpool City Council have been approached for comment.
A petition by SEND Reform England calling for change to the education system has so far been signed by 87,000 people.
Watch our MerseyNewsLive video report here:
Featured image: Cassie Ward