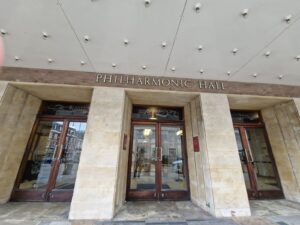 Liverpool Philharmonic celebrates the 15th anniversary of their Music and Health Programme in Liverpool this week. It is National Mental Health Day today, which coincides perfectly with their celebration.
The programme is an initiative created to use music to help to improve the mental and physical health of patients in the system. The Philharmonic believes that the creativity of an individual helps to support recovery.
It was launched by Michael Crilly, the director of Social Health and Community Inclusion at the Mersey Care NHS Foundation Trust, who also led the first mental health NHS Musician in Residence programme. Mr Crilly had positive things to say whilst reflecting on the last 15 years.
"These programmes have delivered a truly humanising process, through which our service users have been engaged as a whole person and not simply seen as the diagnosis that so often defines their existence." 
The service has helped to support over 18,000 patients across the Liverpool City Region living with ill-health. This has involved over 15,000 hours of music-making over 50 different settings.
I am a different person these days
Not only has the Music & Health programmes worked with hospitals and care homes, they have welcomed referrals from community groups and GP's. This has helped to provide opportunity for live music and boosting the wellbeing of these people.
One of the participants said: "People think I am a different person these days.  We cannot mend ourselves with medicine alone.  That is why these courses are so important to me and many others."
For the 15th anniversary, the organisation brings together past and present participants of the programme, to perform on stage and in hospital wards. Friends and family of the participants are invited to the performance, and will explore the journey from Darkness to Light.
The celebrations will come to an end on October 16, and a full evaluation of the programme will be published by the University of Liverpool this November, highlighting all of the benefits that this programme has had towards the community.
Follow us on Twitter @merseynewslive for more news updates.
Featured image: Megan Feeney