As we enter the colder season, museums and religious groups in Merseyside prepare to open their doors as warm hubs.
This time of year can be a scary thought to many as the cost of living crisis continues. Warm hubs are places within the local community where people can find a safe place to keep warm when they are struggling to heat their homes.
Across Merseyside, warm hubs are located in Beechwood, Moreton, Seacombe, Birkenhead and Aintree Village with religious groups being among the most proactive to help.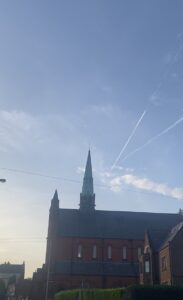 Phillip Inch, Parish Priest at The Holy Rosary located in Aintree Village, explained how they are participating in including warm hubs in Merseyside: "The response we had last year to the need in helping people with the enormous amount of heating bills they were getting meant we decided each week we would open the parish hall and provide a warm lunch, we've been doing that now for 12 months".
During a nervous time for many, Phillip added: "It helps people feel less anxious about the cost of heating and eating".
A clip from our interview with Phillip Inch
Social short as seen on our twitter Mersey News Live                                                       
Featured image by Katie Smith