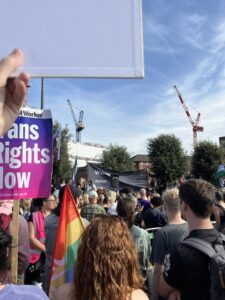 Protestors in Liverpool have reacted angrily to plans which could see trans women being banned from female-only healthcare spaces such as Liverpool Women's Hospital
Health secretary Steve Barclay promised to restore "common sense" to the health service and recognise "the importance of biological sex in healthcare".
He sought to appeal to Tory members, telling party conference attendees in Manchester last week that "we know what a woman is".
Mr Barclay said he wanted to make sure the "dignity, safety and privacy" of all patients was respected, while the rights of women are protected: "We need a common-sense approach to sex and equality issues in the NHS – that is why today I am announcing proposals for clearer rights for patients."
His announcement led to a mixed reaction on social media with House of Lords member Emma Harriet Nicholson tweeting: "Trans women to be banned from female hospital wards ….. as promised we've got there! Congratulations to every single woman and every Health Minister, especially Steve Barclay for this vital lifesaving news! CELEBRATE FRIENDS!"
However, Pride in London tweeted: "Singling out trans women from female hospital wards jeopardises their health and fosters intolerance.
"Transphobic rationales about 'protecting' patients are inaccurate. True equality means trans women have the same healthcare rights. This is unjust!"
There were no complaints, none, zilch
Trans journalist Steph Richards went a step further and contacted 10 health trusts who were asked: "How many natal female inpatients complained that a transgender woman inpatient was being cared for in the same ward?"
Steph explained the replies were that there were "no complaints, none, zilch".
Liverpool Women's Hospital were unable to comment on the proposed ban as the change has not been formally confirmed.
Andrew Duggan, head of communications, Marketing and Engagement for Liverpool Women's NHS Foundation Trust, directed inquiries to the general information on the Trust's approach to diversity and inclusion on their website.
The website says: "We aim to provide fully inclusive services that are appropriate to everyone's needs and are committed to being an organisation within which diversity is valued and appreciated, regardless of age, disability, gender reassignment, marriage and civil partnership, pregnancy and maternity, race, religion or belief and sex or sexual orientation."
Just days after the announcements from the Health Secretary, Liverpool LGBTQ+ community and allies demonstrated their support for one another in Liverpool city centre on Sunday when hundreds of LGBTQ+ activists joined together to protest against the "Let women speak" campaign which was hosted by the anti-trans activist Posie Parker.
Listen to Hayden Bee speak on how they feel as a queer person in Liverpool:
I LOVE the way Liverpool as a city takes no shit from fascists or hate movements. Absolutely brilliant Liverpool, ty for supporting the trans community 🏳️‍⚧️❤️🫶#LetWomenSpeak pic.twitter.com/QQwwpX8L93

— India Willoughby (@IndiaWilloughby) October 8, 2023
Featured image: Cassie Ward