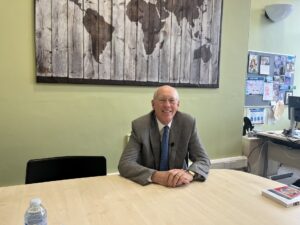 Former ambassador to North Korean John Everard attended LJMU to deliver a talk to students about the region and to inspire them to consider a career within the foreign service.
Mr Everard served in the British Foreign and Commonwealth Office for 27 years, working in Austria, Bosnia, Chile, and China. He also served as Ambassador three times in Belarus, Uruguay and in the Democratic People's Republic of Korea from 2006 to 2008.
Mr Everard said that government and foreign service is a good career route for students to consider. He said: ''I think that careers in government can be very rewarding, very interesting, for the right kind of person with the right kind of passions.
"Be prepared for very hard work, these are not easy options, diplomats in particular work very long hours. The idea that diplomats spend all of their time partying is far from the truth.''
During the talk with students on Thursday, Mr Everard addressed the different challenges that North Korea faces, hunger, human rights abuses, and the instability in the senior leadership – all of which Mr Everard believes are "deeply worrying".
He said: "I'm here because the South Korean Ministry of Unification is deeply concerned that countries outside East Asia haven't yet understood quite how dangerous North Korea is.
"Also, to try to raise consciousness of what a threat it poses to world peace and stability. So, I hope I can achieve a bit of that.''
Last month, Russian President Vladimir Putin held a summit with North Korea leader Kim Jong-Un. Kim Jong-Un reportedly travelled to Russia in the hope of selling artillery shells and other types of ammunition.
Moscow's forces are using thousands of shells a week during their invasion of Ukraine, whereas Pyongyang has an extensive amount of weaponry, including anti-tank missiles.
Both Vladimir Putin and Kim Jong-Un are in deep holes
Although many are worried about the relationship between Vladimir Putin and Kim Jong-Un, Mr Everard said that he was a lot less concerned, and that their relationship is based upon desperation.
He said: "Both Vladimir Putin and Kim Jong-Un are in deep holes and trying to get out, and they think that they can help each other.
"I think there are real limitations to this relationship, and I think that after all the fizz and crackle that we've seen over the last couple of weeks there will be a long period of cooling off and the relationship might well come to an end.''
Additional filming by Jessica McGillvray
Featured image (c) Cassie Ward