Liverpool's parks will be enshrined for the future generations in a collaboration between charity Fields in Trust and the City Council.
Under the new agreement by the end of 2024 the total of more than 1,000 hectares of urban green spaces across the city will be protected.
Each space chosen will have a legal document, known as a Minute of Agreement, which will protect it from non-recreational development, forever.
Chief Executive of Fields in Trust, Helen Griffiths, said: "We are delighted to be working with Liverpool City Council to ensure all 100 of Liverpool parks will be protected and available for the whole community, for future generations."
Liverpool City Council is the first UK's local authority to promise ensuring that the outdoor areas will not be built on or sold off, safeguarding the land and a tangible legacy for local communities.
The agreement will also be one of the final acts of Joanne Anderson as Mayor of Liverpool.
She said: "The health, wellbeing and community benefits these locations deliver are priceless, demonstrated so clearly during the pandemic when they became such a central and important part of our lives."
Fields in Trust (FiT), is a national charity, legally protecting and stewarding parks and green spaces across the UK.
FiT Chair of Trustees, Jo Barnett said: "Across the UK only six per cent of parks are protected and access to them is not equitable."
He added: "We need to champion and support these precious spaces by protecting them for future generations to enjoy. Because once lost, they are lost forever."
The importance of the project was stressed by Helen Griffiths who said: "Parks are good for people.
"They are good for our physical health and our mental wellbeing – places we can all move, breathe, run and play in.
"Parks bring our communities together and provide us with a home from home where we can socialise with friends and family.
"They provide a connection to the natural world around us, improving the quality of the air we breathe and hosting whole ecosystems."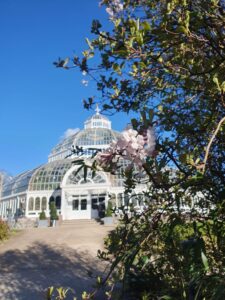 The process began with Fields in Trust identifying the 10 parks that would have the greatest impact on the most in need 27% of the population in the city.
Various data about people, their health, the environment where they live, including how much green space they have access to was reviewed.
As a result, FiT gained a modelled scenario which was then shared with the council. 
The City Council then added a further 10 culturally important parks.
Emma Simon, FiT, said: "With just these 20 parks 64% of the population of Liverpool City would be within 10 minutes of a protected park, forever."
However, Liverpool City Council made the historical decision to protect all 100 of their parks and green spaces, which is 100% of their green space and the first commitment of its kind from a city council.
She added: "We are also making connections with local businesses and funders to fundraise for this work as we do not charge the council.
"And we are making connections across the city to raise the profile of the exciting programme and the value of green spaces and the historic decision to protect all of them across the city.'
The legal process
The legal process is based on completing a Deed of Dedication. Each space will be protected and is registered along with the title deeds at the Land Registry.
This will create a layer of protection that prevents the non-recreational development of that land.
She said: "Fields in Trust's role is to ensure that each space continues to be used for recreational use. Such as sports, physical activity, connection to nature, relaxation and socialising.
The deed will ensure that Liverpool's green spaces will not be lost to development and will remain open and available to everyone for the future.
'Save these trees' petition against park building plans reaches 1,800 signatures