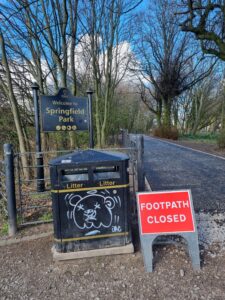 Controversy has once again arisen over a proposed housing project located on a former Alder Hey site in Knotty Ash.
The Springfield Gardens development is adjacent to the locally-beloved Springfield Park, with the group Step Places aiming to create 182 new homes on the estate as well as other amenities such as a new nursery and gym.
The project also aimed to create a patient/step-down care facility, in addition to specialist housing for older people and young adults on the autistic spectrum.
Concerns about the way development is progressing have been a long-term issue within the community, with people expressing disappointment at the destruction of nature as a result of construction work.
One group expressing their concerns are the Friends of Springfield Park, a group of volunteers who have been heavily involved in taking care of the park.
The group had previously won an award for their contributions to the development at the Civic Voice Design Awards in 2016.
The hospital was ordered to return green space back to the council
In 2017 the old hospital buildings on the Alder Hey site were demolished with Step Places taking over 2019 to develop the land after winning a competition hosted by the Alder Hey Trust and Liverpool City Council.
The rebuilt Alder Hey site finished construction back in 2015. As a result of this construction, the hospital was ordered to return green space back to the council so it may be enjoyed by the community once more.
This deal has currently not been fulfilled.
The petition created by the Friends has reached over 1,700 signatures to save a further 30 to 40 trees scheduled for removal from the park. It can be viewed here.
Local people will be able to review and discuss the plans for themselves at the next community drop-in day which will be held tomorrow (March 18) from 10am–12pm.
Step Places have been approached for comment.
Featured image (c) Katie Smith