The start of British summertime brings with it light nights, happier moods and the hope of sunshine, yet for cats and kittens it can be a miserable time.
Cats can breed all year round, but unfortunately it increases greatly during the spring and summer.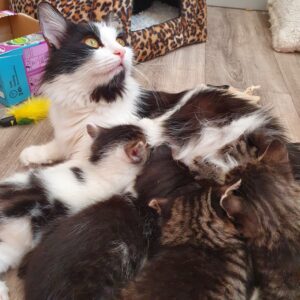 Help is available for pets
Veterinary nurse, Rebecca Schofield, at Rescue Me animal sanctaury in Melling, said: "There isn't really a specific season any more as it is happening all year, but we are definitely seeing an increase now."
Her biggest piece of advice for dealing with unwanted/abandoned cats and kittens is to spay and neuter and Rescue Me currently run a spay and neuter scheme open to anybody.
She said: "We set up the scheme as a result of the covid pandemic as vets were becoming increasingly short staffed and over worked.
"More people were relinquishing their pets during this period so we wanted to give something to the community."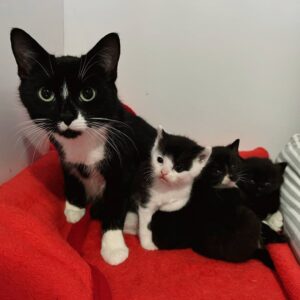 Please don't give up on your pet
There are many cheap neutering services open to those on means tested benefits, but the Rescue Me scheme is open to anybody, no matter what their job or income.
Miss Schofield said: "It isn't a one-size fits all scheme, the prices vary depending on the person's salary and the situation."
Despite this scheme, rescue centres are still seeing a massive increase in cats and kittens.
Elara Nicholson, Volunteer at Silth's Sanctuary said: "We are currently seeing a lot of requests to help out with pregnant mum's as kitten season is upon us.
"Unfortunately this means that a lot of rescues are running out of space so we have created a flier with details for Rescue Me and Cats Protection, which helps with the cost of neutering.
"This is amazing as it prevents unwanted cats and kittens and gives rescue centres more space to help cats on the street who need help."
Miss Nicholson's colleague, Heather Baker gave advice about the importance of microchipping and fostering cats.
She said: "By microchipping cats, we can get an idea if they have been lost or abandoned. One cat accidentally travelled to Liverpool from Birmingham and his family were definitely looking for him. Due to his microchip we could reunite them."
However, not all cats are so lucky as Miss Baker spoke about her current foster, Feyre: "She was being fed by an elderly lady but was very dirty. She wasn't chipped but is very friendly so we think that she was abandoned."
Feyre was lucky to be rescued as she was soon hospitalised after becoming seriously ill from eating something rubber on the streets.
Miss Baker said: "She is doing well now and looking for her forever home, but I can't stress enough the importance of neutering and microchipping. Us fosters don't have enough space and it isn't getting any better.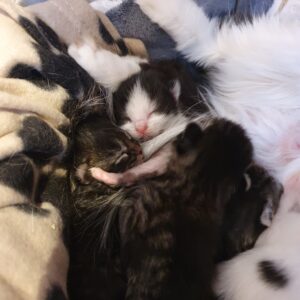 And Steph Taylor, founder of Rescue Me, echoes this.
She said: "We are dreading kitten season this year. There was reduced neutering during Covid and rescues are now picking up the pieces.
"We are already full with mums and kittens and trying to recruit further foster carers who can help us to help more.
"Kitten season 2023 is already proving totally relentless, especially for strays giving birth on the streets."
Miss Schofield said they find people buying kittens because they are cute, but don't understand their behaviours or educate themselves before they take on the responsibility of a pet.
There has also been some question as to whether cats are more prone to abandonment than dogs and Rebecca Schofield feels that there is more misconception about cats' ability to survive on the streets.
She said: "People have different perceptions about cats – they feel they survive well on the streets, which isn't the case.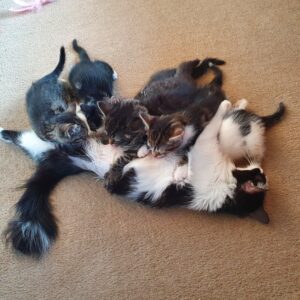 "Cats are more likely to withdraw after negative interactions with humans but this doesn't mean they need less care.
"Often on the streets they are prone to injury and disease.
"There are also different laws surrounding cats than dogs but hopefully this will change soon with the new microchip law."
From June 2024 it will be compulsory for cat owners to have their pets microchipped before they are four months old.
It is also hoped that a law will be passed to ensure that drivers have to stop if they hit a cat with their car.
Despite all the efforts of rescues and foster carers, many cats and kittens still end up on the streets. If you see a litter of kittens the advice given is to contact a reputable rescue immediately for advice.
Miss Schofield said: "Again, one size doesn't fit all so if you see a group of kittens on the street and there is no immediate danger then please contact a rescue straight away.
"Sometimes it is best not to intervene straight away as there could be a colony of cats, including the mother close by.
"They might also be open to infection and disease so don't rush over straight away.
"Please contact a professional as it is best to have a plan on who's to take care of them."
Charities like Rescue Me are always on hand to offer advice, but the question of how to keep cats and kittens healthy and happy is often helped by one major important factor – to neuter your cats!
Steph Taylor said: "We really need more people to neuter their cats. Neutering really does save lives and prevents so much suffering.
"Please contact us for more info regarding our discount neutering scheme and help us to help them."