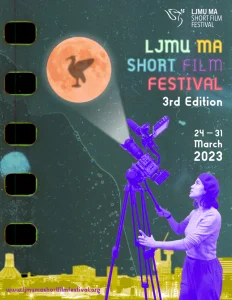 Film students at Liverpool John Moores University Screen School will host their annual Short Film Festival later this month.
It is the third time the festival has run, and it will premiere 42 films, curated by Masters' students from both local and global entries, in four categories: Fiction, Documentary, Animation, and Experimental – with the latter being new to this year.
The new section will be comprised of short films that aim to 'push the boundaries of contemporary cinema'.
Each programme category will be judged by a panel of industry specialists and undergraduate students.
The 2021 and 2022 festivals proved to be a success, with the work of more than 70 film-makers being exhibited online due to the COVID-19 pandemic.
This time around audiences will have the opportunity to interact further with the festival, being able to attend a closing party in-person.
The live event will be used to screen award-winning and stand-out entries from across the contest, while also acting as a networking platform.
'Being part of the editing team for the festival has allowed me to express my creativity'
Winning films will also be recipients of a Paper Bird Award. The awards take the form of trophies fashioned in the style of origami birds, and are the creation of artist, musician, and director Ivan Mack.
The bird is a symbol of both the university and the city of Liverpool as a whole, while the paper element reflects the academic background of the festival's organisers.
James Roberts, MA student and co-organiser of the festival, said: "Being part of the editing team for the festival has allowed me to express my creativity."
Jory Metcalf-Judge, another MA student behind the festival, added: "My experience programming this festival has opened my eyes to how the beating heart of the city can be represented through cinema."
Dr Lydia Papadimitriou is Festival Director and leader of the MA Film module.
She said: "I am very pleased to be working with this year's MA Film students to prepare the third edition of the LJMU MA Short Film Festival.
"Thanks to their keenness to include an ever-greater variety of quality student films from around the world in the programme, in addition to 'Fiction', 'Animation' and 'Documentary', this year we will also showcase 'Experimental' films.
"And aside from the online events, this year we will also have an in-person screening of winning films for the Liverpool public!"
The festival gets underway on March 24 and runs until March 31.
The full list of entries and their relevant categories can be viewed here.
Watch Matt Markey's video report here:
Featured Image (c) LJMU MA Film