The leader of Liverpool's Chamber of Commerce has shared his hopes and thoughts with MNL ahead of today's (March 15) Budget statement.
Chancellor of the Exchequer Jeremy Hunt will outline the state of our economy and then propose his policy on how to help improve it.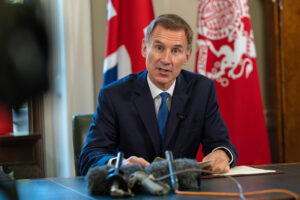 With many expectations as to what will be changed in the Budget statement, taxation, childcare, and pensions at the front of most people's minds.
Liverpool's Chamber of Commerce shares similar concerns.
Paul Cherpeau, Chief Executive of Liverpool Chamber, said: "What businesses want most of all is stability and consistency, without the shifting sands of short-term, vote-winning policy changes.
"A Budget that prioritises sustainable economic growth is absolutely essential if businesses are to have the necessary confidence to plan and invest for the future."
Mr Cherpeau also raised concerns about the current high cost of energy.
In the most recent Budget statement, a decision to increase the cap on energy bills from £2,500 to £3,000 was announced.
It has been speculated that Mr Hunt will scrap this policy in favour of alleviating some pressure from the cost of living crisis.
Liverpool Chamber also expressed hope the government would revitalize the workforce, in order to improve the economy and ease the individual financial burdens.
Mr Cherpeau said: "There can be no quick fixes, but through a combination of targeted support to upskill younger people, incentivising experienced older workers to delay their retirement, and tackling spiralling childcare costs, the government can create an impetus whereby more of the right people are filling the right vacancies and we start to see a return to real growth."
Currently, parents can qualify for up to 30 hours of free childcare for children aged three and four.
Extending the age range to include children aged one and two could mean less time out of the work force for parents of young children.