Crufts is only a day away, and the RSPCA is calling for some of the nation's most popular breeds to be banned from the competition.
'Flat-faced' dogs or 'Brachycephalic' dogs are controversial because of the number of health issues they face in their lives.
These dogs include some of the nation's favourite breeds such as Pugs, Bulldogs and Boxers.
Due to their extreme body shape flat-faced animals have a much higher risk of developing numerous painful illnesses and diseases than others.
The RSPCA launched a new Save Our Breath campaign today calling for Crufts to stop the promotion of these animals and a survey by the charity says that 53% of people in the North West agree.
The charity says that though Crufts is a celebration of dogs, it sadly rewards flat-faced animals with extreme features.
It claims that the continued promotion of this look normalises the aesthetic as something desirable.
Emma Slawinski, campaign director at the RSPCA, said: "Featuring
brachycephalics at Crufts legitimises their exaggerated features and
increases their popularity amongst the public.
"This year we are campaigning to have French bulldogs, pugs and bulldogs
removed from the show as we do not believe their extreme physical features
and associated health and welfare issues are a cause for celebration."
Of the people surveyed, 80% support mandatory health testing for brachycephalic animals in order to compete at Crufts.
A further 83% believe that Crufts has a responsibility to only show healthy dogs.
Barbara McKernan, from Liverpool, explained the difficulties she has faced with her French Bulldog Frankie.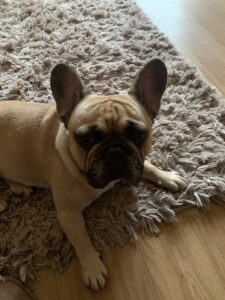 Frankie, who had no nasal passage at all, could not even go for a 15-minute walk without struggling to breathe.
Barbara said: "I noticed his breathing was a bit laboured and that his whole stomach seemed to move when he was sleeping.
"I had read up on a surgery but there seemed to be so many complications, I didn't want to put him through it."
In the end Barbara took Frankie to get surgery to widen his nostrils.
She said: "They told me he had Brachycephalic airway obstructive syndrome (BOAS).
"I tried to avoid the surgery, but he was struggling to sleep and it was getting worse.
"It broke my heart to have to put him through it all and I was so worried
about it."
Thankfully the surgery was a success and Frankie is doing much better.
Not all dog owners agree with the proposed ban, believing it would discriminate against those dogs and that Crufts, in particular, is a celebration of all breeds.
Sarah Carden, 39, owns an eight-year-old boxer, Hank.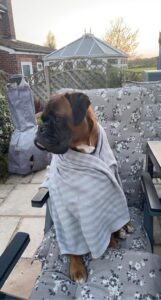 Hank has had health issues for most of his life – none of which relate to his face.
Sarah said: "Hank has been unlucky and we have spent thousands on his health.
"None of these issues have been due to his face."
She says Hank has been unlucky having issues with his legs, similar to those a Labrador may experience.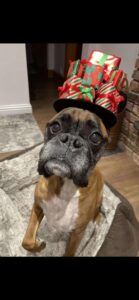 Sarah said: "Hank has never been restricted with his breathing at all.
"Of course there are extremes, cases where their breeding has gone too far.
"There will be long-nosed dogs who have had more issues with breathing than Hank."
Many dogs, such as Labradors, have issues with obesity, other breeds can have leg problems.
Sarah said: "It is unfair. There are extremes in all dogs, but doesn't mean you can ban an entire category."
Despite the calls for a ban, Crufts are yet to respond, so any action taken will not likely take place any time soon.
The RSPCA have created an open letter which you can sign if you support their cause.
Advice issued on behaving around dogs as Liverpool attacks soar
RSPCA launches Trek for Cats to raise money for rising pet returns since lockdown