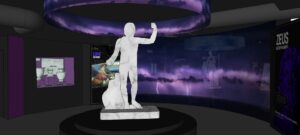 An exhibition which aims to bring the gods of ancient Greece to live opens at Liverpool's World Museum this spring.
The exhibition, called Return of the Gods, will run from April 28 until February 25 next year, and will allow people to discover the fascinating world of the Olympic gods.
The exhibition will feature a collection of over 100 sculptures. These will include some of the best-known characters from Greek myth and legend, such as Athena the goddess of wisdom and war, Hercules, and Zeus, the king of the gods.
Chrissy Partheni, Curator, Classical Antiquities at World Museum said: "We want the characters of the gods and heroes and their interaction with mortals to shine, so we will be presenting the collections in a new, dramatic way, not simply as beautiful art objects.
"We want visitors to immerse themselves in the fantastic tales and myths of the classical antiquity world and to feel they are taking part in public festivals, games and in the worship of special cults of ancient Greece and Rome." 
Myths will come to life
Myths will come to life and object highlights will include incredible two-metre-high statues of Zeus, Aphrodite and Athena, as well as amphoras more than 2,000 years old, illustrated with the legends of the time and graffitied with their artist's tag. They were originally collected by the 18th century antiquarian Henry Blundell of Sefton.
Visitors will be greeted by exploring the joys of the luxury Roman villa to discover how Emperors and the Imperial families were immortalised after death.
This will be followed by a theatrical display featuring the three-headed dog, Cerberus, guardian of the gates of Hades. Adult tickets will cost £5, members and children under 17 will go free.
Return of the Gods is at the World Museum, Liverpool, from April 28-February 25 2024