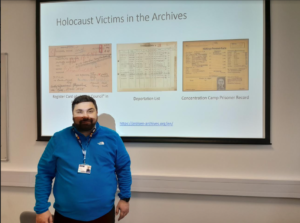 It's often said history repeats itself, that the lessons of yesteryear should enable us to shape a better future – but as a society, do we actually learn?
Following last month's Holocaust Memorial Day, Andre Kiel, Professor of History at Liverpool John Moores University, said: "I think it shows how very quickly people who seem to be civilized – who live in a relatively open society like the Weimar Republic – can very quickly turn. People can basically utilize and mobilize hatred of minorities for their own ends.
"I suppose this is one of the stories that still matters today. There are plenty of examples of minorities being victimized, being persecuted and how easy in times of crisis it can be to present them as scapegoats for problems of society and how quickly this then can lead to absolute brutal violence".
An estimated six million Jews perished throughout the Holocaust in one of the most devastating acts of genocide in human history. This meant after the war two out of three European Jews had their lives taken.
However it is also important to remember more than the inhumane statistics, they were people who had stories, families and dreams.
Prof Kiel explained how he remembered the victims in his own way: "With students from the schools in the region I had around 30 to 40 students come to the university.
"We did a workshop together with some student volunteers, including history students who have volunteered to help to facilitate these things.
"We looked at Jewish footballers during the Holocaust. They were also persecuted by the Nazis, and students had the chance to explore their biographies and their fate during the Holocaust.
"That's hopefully a way how we can engage students with this kind of history".
He added that it also gave the victims their individuality back, their faces back and made sure they were not just remembered as victims, but as full human beings – "they had dreams and passions".
Featured image (c) Ryan Everett