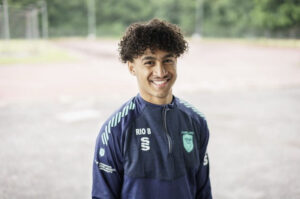 A second year Liverpool student who has cerebral palsy is working on a project which aims to get as many people as possible with the condition involved in sport.
Cerebral palsy (CP) is a group of disorders that affect a person's ability to move and maintain balance and posture. CP is the most common motor disability in childhood. Cerebral means having to do with the brain.
Palsy means weakness or problems with using the muscles.
Approximately 160,000 people in the UK have been diagnosed with cerebral palsy, including second year LJMU student Rio Boothe, who is studying Sport Business.
Rio has right-sided hemiplegia – a paralysis that affects one side of the body – and is working with Cerebral Palsy Sport to encourage participation.
Rio was born at 24 weeks (three months early), so was very premature.
Rio actively avoided sports during high school due to bullying
He suffered with a bleed on the left side of his brain which caused weakness to the right side of his body due to the signals and messages from the left side of his brain not being sent to the right side of his body.
Despite this, Rio is now competing as a para-athlete for Manchester Harriers and the LJMU athletics team in the T37 classification (T37 is one of the cerebral palsy classification categories).
Rio competes in the 100/200/long jump, and also got accepted on the Sport Scholarship at LJMU in October. It is safe to say that Rio has not let his disability get in the way of his dreams.
Rio actively avoided sports during high school after dealing with bullying due to his Cerebral Palsy,
He explained how he was always picked last and was heavily taunted due to his splint on his right leg. It wasn't until college that Rio started embracing his disability and started his sports journey.
During lockdown, Rio started running 5K's up to three times a week as a way to be active, but soon realised he hated it.
Instead, he switched to running 100m and that sparked his passion and dream to be a para-athlete.
During this time, Rio started posting on TikTok about his Cerebral Palsy – he wanted a platform to talk and educate people about his condition.
Through these social media platforms, Rio was discovered by charities and companies who help people with disabilities.
They encouraged Rio to be a spokesperson for the charity with the hope of him providing a role model to younger children with Cerebral Palsy, something that Rio struggled to find growing up.
As well as working closely with Cerebral Palsy Sport, Rio also works with "UP" – The Adult Cerebral Palsy Movement.
The partnership with Cerebral Palsy Sport aims to help people with disabilities embrace their condition and get into sports and become more active.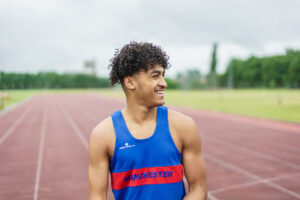 The project has already seen one hub being set up in the north east of the country, but with Rio being in the north west, the aim is to set up a hub in Liverpool so Rio can be more actively involved.
Rio said: "I know from personal experience that participating in sport has helped me embrace my CP and just be more open when discussing it."
The objective of the project is to educate and raise awareness to as many students and teachers about the barriers surrounding Cerebral Palsy and disabilities as a whole and the involvement in para sport.
This could be lack of opportunities, lack of awareness, low self-esteem or even bullying. Rio and the team want to inspire as many people as possible so there is no longer a stigma around disabilities.
The project aims to deliver regular sport sessions to those with Cerebral Palsy and anyone who is able bodied who would be interested in coaching these sessions.
The target demographic for this project is high school students, year 7-9, and those in higher education.
By getting younger children involved, there will be the opportunity to identify potential early on and open them up to opportunities Rio struggled to find growing up.
Rio and CP Sport are planning to go round high schools and put on talks and presentations about this project and to help get rid of the stigma and barriers surrounding disability sport.
For more information on Rio, check out the links below to see his involvement with removing the stigma of Cerebral Palsy and also his athlete profile!
Useful Links:
Rio Boothe – UP – The Adult Cerebral Palsy Movement (upmovement.org.uk)
CP athlete Rio Boothe chats about his journey into Athletics and passion for promoting disabled sport (cpsport.org)
Rio's athlete profile – Athlete Profile (thepowerof10.info)
Social Media:
Rio's TikTok – RioBoothe
Rio's Instagram – @Rio_Boothe
Cerebral Palsy Sport Instagram – @cp_sport18
UP – The Adult Cerebral Palsy Movement Instagram – @upmovement_cp
Featured image: LJMU