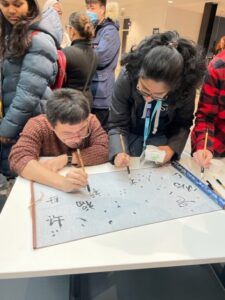 Chinese New Year was celebrated officially yesterday – but Liverpool John Moores University was in full swing for their festivities all last week!
Ending the year of the Water Tiger, which is seen as a symbol of strength, braveness and exorcising evils, the 2023 Lunar New Year is set to welcome the Year of the Rabbit.
The Rabbit is the fourth animal in the zodiac sequence of 12, and is seen as the luckiest. The animal is also said to signify mercy, elegance and beauty.
Fun fact: People born in the Year of the Rabbit are believed to be vigilant, witty, quick-minded and ingenious.
At the Student Life Building, Copperas Hill, LJMU students created the ultimate celebration. It included a student lunch and multiple workshops including calligraphy, dumpling tutorials, paper cutting, chopstick challenges and more.
The celebration was created by Chinese students who want to celebrate their heritage, so with the help of the university's Students Union, they spread the word and had an impressive turn out for the event.
There was even a pop-up store from fashion retailer Flannels Liverpool who were giving out free goodies, including discount cards.
The celebrations culminated in a spectacular performance by Liverpool Hung Gar Kung Fu martial arts school who created a mesmerising Chinese dragon dance.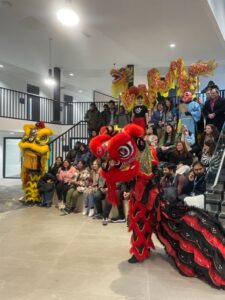 The event – organised by LJMU International Team, Diversity and Inclusion team and John Moores' Students Union – celebrated the Chinese culture and created a welcoming environment for students wanting to learn more.
Julia Wang, Director of International Relations at LJMU, said: "We're celebrating the spring festival which we organise every year. We do it for all the Chinese and South Asian students as we all share this culture".
Check out the TikTok MerseyNewsLive created (below) to see a rundown of the day:
Featured image © Chloe Doolan