A pop-up clinic aiming to help local children get vaccinated has launched in Liverpool this week.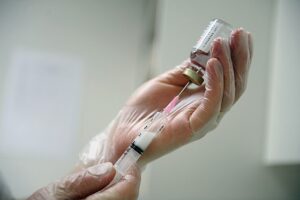 The Children's Immunisation Catch Up clinic targets primary school pupils who have missed their routine immunisation at their GP.
The clinics will be operating on Thursday over a three-week period between the hours of 1:00PM to 4:00PM, on November 24, December 1 and December 8.
The clinic will offer most immunisations which include:
Pre-school boosters
MMR (Measles, mumps and rubella)
Meningitis
The annual nasal flu vaccination will also be offered to any children who missed their initial session whilst at school.
The County Children's Centre on Arnot Street in Walton will be hosting the catch-up clinics on a drop-in basis only.
For parents of children who have missed any of the immolations be sure to plan ahead and get down as early as possible as they will be administered on a first come, first served basis.
Nikki Wilinski, Vaccination & Immunisation Team Leader for Mersey Care NHS Foundation Trust said:  "It's really important that childhood vaccines are given on time as this will provide your child with the best possible protection against diseases – but it's never too late to be worthwhile catching up.
"If your child has missed any of their vaccinations, whether it was at your GP practice or a clinic at school, we'd really encourage you to make the most of these sessions – drop in and get them fully protected."
Featured image (c) Wikimedia Commons