Fans across Merseyside cheered on the Three Lions as they started their challenge to win football's most coveted trophy.
Liverpool watched and celebrated as England beat Iran 6-2 in the opening game of the 2022 World Cup. Goals from Jude Bellingham, Bukayo Saka, Raheem Sterling, Marcus Rashford and Jack Grealish saw England confidently dispatch Iran.
Cheers of "Southgate you're the one", "World in Motion" and of course "Three Lions" echoed around the Sefton Park fan zone as England scored 6 including three goals scored by players making their World Cup debut.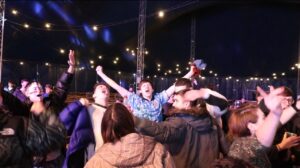 Rashford, Saka, Grealish and Bellingham all scored their first World Cup goals, with the latter three making their debuts in the competition.
Former Liverpool and England international Steve McMahon was in attendance at the local fan zone in Toxteth.
McMahon said at half time: "Superb! Superb. Can't ask for any more from the first day of the World Cup and it now gives us a chance to carry on."
Our reporter spoke to some England fans who were not as optimistic, expressing disappointment over the two goals England conceded but overall they were happy with the team's display.
Watch Ollie Nolan-Davies's video report:
Wales also played their first game of the tournament, back at their first World Cup since 1958. The team faced off against USA. Gareth Bale's late penalty rescued a point for Wales, coming back from 1-0 scored by Tim Weah.
Featured image England Fans (c) Ollie Nolan-Davies