Last night, England beat 6-2 to Iran at the World Cup, but do the players still receive racial abuse to the extent they did in previous tournaments?
A year ago, England and Italy competed for the Euro Cup final 2021.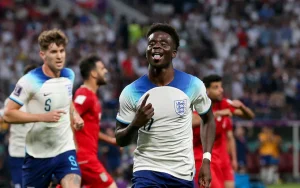 Three England players – Marcus Rashford, Jadon Sancho and Bakayo Saka – received racial abuse from the England fans in the final after losing 3-2 on penalties.
Although many fans and many countries are still in doubt and shock about the World Cup being held in Qatar this year in 2022, there has been much controversy about the country itself, with strong beliefs and views.
Leading up to the World Cup, Twitter faced great difficulty as they failed to delete 99% of any racial tweets.
New owner Elon Musk released a statement saying any "negative/hate tweets" would be "deboosted & demonetized", but not necessarily removed. Musk said: "Users won't find the tweet unless you specifically seek it out, which is no different from the rest of [the] internet"
Featured image: Shaun Botterill, Getty Images