A former Liverpool John Moores University student paid a visit to third-year journalists, armed with advice and insightful stories of working in the industry.
Connor Dunn, who graduated with BA Journalism in 2015, spoke about his transition from university to full time work.
The 28-year-old had previously been a sport reporter for the Liverpool Echo for five years, where his career had taken him to other corners of the world, including Kiev and Madrid for the Champion's League final.
The former sports reporter recently made the switch to PR, joining Liverpool agency ThisGeneration.
He explained his reason of a change from newsroom buzz to prestigious award ceremonies.
"I got amazing opportunities in both, but with this PR company I get to do big events- we've been doing the PR for Westlife!"
His PR firm recently attended the European Diversity Awards at the Landmark Hotel in London as well as the Ethnicity Awards at the Grosvenor Square Marriot which celebrated the diversity champions in various work places such as HSBC.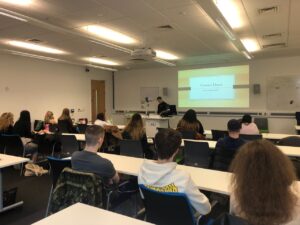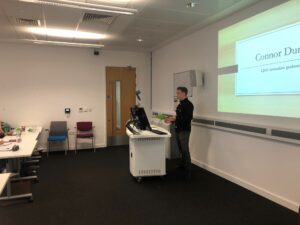 Connor, who specialised in broadcast in his final year at LJMU, gave current journalism students an insight of his time on the course as well as a glimpse of their future in the industry.
He also offered useful advice for students, encouraging them to gain as much experience and contacts as possible.
"Be up for any opportunity; finding your passion and focus on what you want to do will make stuff a lot easier."
"Be curious, be persistent, talk to people, and you'll go a long way."