The government has made a sensible decision in withdrawing free mass COVID tests, a Liverpool John Moores University immunologist believes.
From April 1, the vast majority of lateral flow and PCR tests in England will now incur a cost.
Dr Darren Sexton, from the School of Pharmacy and Biomolecular Sciences at LJMU agrees with this, despite rising Covid cases.
He said: "Even though we are seeing a rise in cases at the moment, we're not seeing a debilitating rise in hospitalisations.
"We're also not seeing a massive increase in deaths.
"It is getting to a level now where we can see Covid mimicking seasonal flu."
Dr Sexton thinks a number of considerations have been made regarding the decision.
"It's a balanced approach and a necessary financial approach.
"I think scientifically it makes sense as long as we don't see the NHS overwhelmed."
Lateral flow tests will still be available free of charge for those in workplaces such as the NHS and care homes.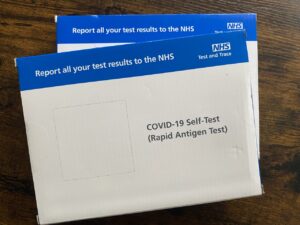 PCR tests will also be free for those with symptomatic Covid symptoms at higher risk of getting seriously ill.
Those working in high risk settings and patients in hospitals where it is required for their care will also be eligible.
Dr Sexton feels comfortable with the provision of free testing for these groups.
He said: "As long as they're there for the susceptible, and those working with the susceptible, it makes sense."
In response to the withdrawal of free mass Covid tests in England, there was strong reaction on Twitter:
Free testing ends on the same day that the UK hits record levels of covid, with an estimated 1/13 people infected. You'd think it was April 1st.

— Anil Seth (@anilkseth) April 1, 2022
15) Is this the time to end mass free testing? I think the number of hospital beds occupied with covid patients, and excess deaths, especially in the elderly can lead us to the answer to that question (no btw). End

— David Chung (@cruncherwax) April 2, 2022