A veteran from Merseyside paid his own respects to fallen comrades yesterday following Sunday's remembrance events.
John Eddowes, 86, who served in Malaysia said: "We must remember those people who really had no choice – they had to go."
After World War II, John was in the age group where they were called up to do national service. He then went into the army into the Cheshire Regiment and continued to served in the jungle in Malaysia.
November 11 is a day everyone can come together to remember those who fought for the country. John said: "Its a very sad day for me, really, remembering those comrades that fell."
To mark the day John went to a parish service in Heswall, Wirral, where he proudly wore his medals.
He said: "It's very rarely I use my medals in fact but it always brings back  the sad memories we lost six of my comrades when I was over in the jungle."
A series of events took place across Merseyside for the first time in three years, as the city's remembrance service returned to St George's Plateau.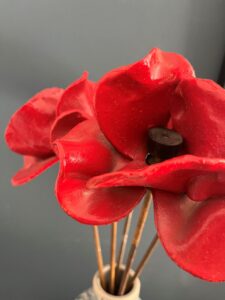 Hundreds of people gathered for the two minute silence at 11am, followed by the wreath laying  from civic, military and religious leaders. The Band of the Duke of Lancaster's Regiment and The Pipes and Drums of The Liverpool Scottish Regimental Association led a parade from St George's Plateau.
St George's Hall had been lit up red since Remembrance Day on November 11, and on Sunday red poppy petals were blown from the roof, as Matthew Welch reports here. The hall then stayed open until 4pm to showcase birthday cards and letters from mothers in Liverpool who wrote to their sons who served during the Battle of the Atlantic.
Watch our video report by Harriet Belderbos:
Featured Image – Poppy (c) Harriet Belderbos