A new wellness walking tour has been launched in Liverpool City Centre with the aim of offering a moment of mindfulness amid a busy city.
Created by artists Sarah Stephenson and Roger Hill, the project Sound Drops consists of "audio interventions" in six different locations throughout the city centre.
It works on the idea that a combination of words, tuned and untuned sound and field recordings could have a relaxing effect on people's minds in times of troubling moments.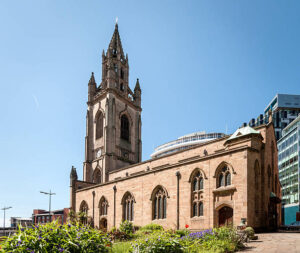 The six locations of the Sound Drops are:
Williamson Square
The Athenaeum at Church Alley
Liverpool ONE
Liverpool Parish Church Gardens
Open Eye Gallery
Exchange Flags
Each location has a bench which offers an opportunity to sit and take a moment. The Sound Drops can be accessed digitally via a QR code.
Alternatively, they can be accessed so that you listen to them while on foot.
Featured image courtesy of Sound Drops