Irish post-punk band Fontaines DC have had a busy few years since releasing their first Album, Dogrel, in 2019.
The five-piece band from Dublin are currently on their UK and Ireland tour for their brand-new album, Skint Fia, and on Saturday played Manchester's O2 Victoria Warehouse as part of a three night sold-out show.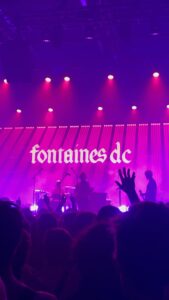 Frontman Grian Chatten's lyrics portray the life of an Irishman in their latest album, with a poetic touch of personal feelings to convey to their listeners what life is like back at home.
The first song of the night on Saturday was their first single from the second album A Hero's Death, with the opening line of 'Life ain't always empty'. With the bass in your heart and the drums in your chest, Grian won the crowd over in a matter of seconds, with mosh pits left, right and centre.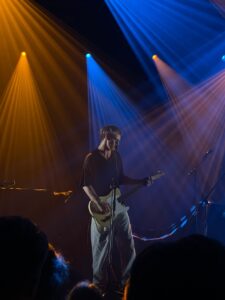 The frontman walks around the stage like he owns it, singing into the crowd and swinging his mic in the air, capturing a real feel if rock 'n' roll.
Rolling back into their first album, Grian sang Sha Sha Sha from Dogrel which quite clearly is a fan favourite. Every single hand was in the air pointing at the singer with the catchy title being shouted from the top of people's throats.
A personal favourite from that night was Nabokov – you just can't get any better than that song.
A single recently from Skint Fia, Nabokov is one of the deep cut's songs of the album with lyrics expressing inner conflict of a romantic relationship, and of course, is a song that naturally makes you sing with an Irish accent, such as: "Fayyyyyy-vaaaa"
Whilst the 90-minute set goes on, you can see from Grian's face that he is utterly impressed and blown away by the Mancunian crowd.
When the band played Too Real, you could really tell from the Manchester fans that Ian Curtis was virtually back on that stage, from Manchester's much-missed Joy Division.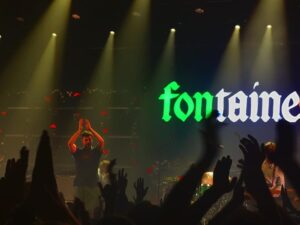 The venue itself represents the band. 02 Victoria Warehouse is an old, beaten-down building but the bricks of the building add nostalgia and keep the music between the walls, making every single chainsaw of guitar heard and the floor vibrations of the drums and bass.
A truly spectacular and once in a lifetime experience.
Star rating: Five out of five
Featured image (c) Annabelle Davies