There has been a rise in fires caused by the lithium-ion batteries found in e-scooters and e-bikes, with Merseyside Fire & Rescue Service (MFRS) urging people to take care when charging their devices at home.
These incidents are mostly caused by faulty third-party batteries or people leaving their electric scooters and bikes on charge overnight.
MFRS Area Manager for Prevention Mark Thomas said: "Electric bike and scooter batteries have become a major source of fires in the home here in Merseyside.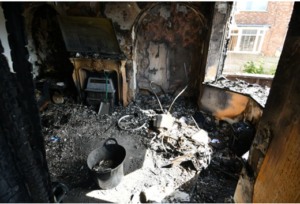 "The incidents we've attended recently here in Merseyside could have been fatal if the occupants were asleep or if the properties didn't have working smoke alarms fitted. Don't let this happen to you."
One of the most serious incidents involving lithium-ion batteries happened in Huyton in June, where even though the family managed to escape with minor injuries, the terrace house was left unliveable.
If the batteries are damaged, they can overheat and catch fire without warning. MFRS are advising people to dispose of damaged batteries safely.
Europe's largest e-scooter provider, VOI, who have run the public hire e-scooter scheme in Liverpool since October 2020, have partnered with Lithium Battery Recycling Solutions (LBRS) to enable their batteries to be safely dismantled and recycled.
VOI's scooters have been declared safe despite a recent blaze in Bristol, where the scooters were temporarily withdrawn from the city.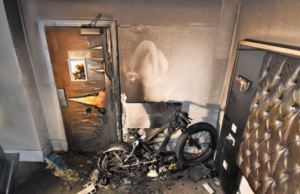 Jam Samler, VOI general manager, said: "This was an isolated, one-off issue with one scooter from our long-term Rental service in Bristol – this service is not available in Liverpool.
"We pride ourselves on having one of the safest, most robust and efficient scooter fleets in Europe, and we uphold the highest levels of e-scooter maintenance to ensure riders have the best possible experience when using one of our shared e-scooters.
"Our users can rest assured that they can confidently continue to use our Pay as You Go service in Liverpool."
The rise in serious incidents involving electric bikes and scooters has coincided with the increased popularity of their use.
MFRS is advising those who use them to adhere to their safety advice which can be found here.
Featured image © Merseyside Fire & Rescue Service