After opening on the Wirral in September, Twopence To Cross The Mersey now comes home to the city where it all began.
The first UK national tour of Helen Forrester's much-loved production comes to an end next month in Liverpool.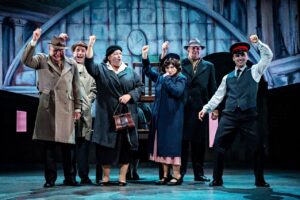 The premiere tour 2022 has played to audiences across the UK at 15 venues, beginning at the Floral Pavilion in Wirral. It then continued to venues in Rhyl, Stockport, Crewe, St Helens, Blackpool, Warrington, Darlington, Halifax, Croydon, Coventry, Lichfield, Bolton and Southport.
Now it will conclude in Liverpool at the Epstein Theatre, between November 5-12.
The show has been receiving five star reviews and enthralling audiences. MNL critic Natalya Luke rated the production 5 out of 5 and described it as a "a must-see for all".
The new touring production of Twopence To Cross The Mersey has been produced by Rob Fennah and Lynn McDermott for Pulse Records Limited in association with Bill Elms and directed by Gareth Tudor Price.
The nine-strong cast play more than 40 characters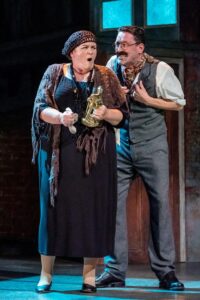 Playwright and producer Rob Fennah said: "Twopence has received some great reviews during its first full tour of the UK and we are all going to be at the beautiful Epstein Theatre in Liverpool to welcome it home on November 5."
Helen Forrester's life story is familiar globally and is told through her best-selling volumes of autobiographies: Twopence To Cross The Mersey, Liverpool Miss, By The Waters Of Liverpool, and Lime Street At Two.
Rob Fennah enjoyed a long friendship with Helen Forrester and adapted her book into a stage musical in 1994 which was premiered at the Liverpool Empire Theatre. Helen travelled from her home in Edmonton, Canada, to see her story brought to life on stage.
Featured image: by Anthony Robling