Part of Liverpool has been plagued with complaints and calls of "chaos and antisocial behaviour", forcing Knowsley Council act in response to repeated concerns involving gangs of youths aged 13-17.
With an increase in complaints from residents, a stark warning has been delivered to the community as the behaviour by young people has worsened. 
This is not the first time anti-social activity has plagued previously peaceful communities as Halewood and Bootle residents have also delivered complaints to the council, resulting in dispersal orders being issued to tackle the problem.
Knowsley is the third most dangerous small town in Merseyside, and is among the top 10 most dangerous overall out of Merseyside's 39 towns, villages, and cities. Between November 2020 to 2021, the area was identified as the having the most antisocial behaviour complaints in the area, with a total recorded of 81 complaints.
One resident in the Knowsley Area, Laura shared her concern for her neighbourhood.
"I don't feel safe, I feel annoyed. I have a young daughter and I don't need this to be her issue when she's walking to and from school and I'm worrying teenagers will cause her any trouble.
"It's been like this for months and something serious needs to be put into place soon or the problems were facing now are just gonna be a million times worse."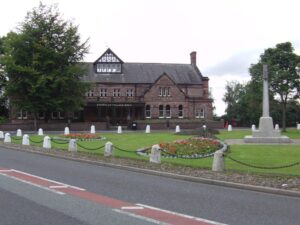 Cllr Shelley Powell, Knowsley Cabinet Member for Communities and Neighbourhoods, said last week: "Here in Knowsley, we're determined to tackle this issue head-on and show these people responsible that we won't tolerate this kind of behaviour at any time of the year.
"We are working closely and collaboratively with our partners to ensure there is increased support and that we can address and respond to incidents quickly."
As residents remain unsettled, Knowsley council have promised over 1,000 CCTV cameras will be monitored around the clock through the Knowsley CCTV network, working together with Merseyside Police so any destructive behaviour will be noted and dealt with effectively to identify persistent offenders.
As part of the partnership plan between Knowsley Council and organisations, the Knowsley Crime and Communities team have also promised to conduct a new strategy within schools in the area, informing teenagers of the consequences should the behaviour continue.
Letters will be also issued to businesses detailing to be cautious when selling items such as eggs and flour to young people who could use them in anti-social activities. 
The organisation has urged residents if they see or hear of any anti-social behaviour over the Halloween and Bonfire Night period, they can report this and contact the team anonymously, where the issue will be dealt with immediately. 
Allison Cornell, the communications manager from the Crime and Communities Team, told MNL about the plan of action. 
"We know this time of year can see an increase in anti-social and criminal behaviour, causing distress to communities across. Our team and Knowsley Council are working together to deliver our message to the community and re-assure anyone with concerns.
"What's vitally important in tackling this issue, is community intelligence. We are urging residents to share any information they may have about criminal and anti-social behaviour and the more we know, the more we can do to help.
"This means that the police can be immediately notified of any incidents of crime and anti-social behaviour occurring and police patrols can be deployed accordingly."
Public appeals have also been issued asking residents to report young people that are conducting any illegal activities such as fly-tipping, littering and setting off fireworks. 
REPORT CRIMINAL AND ANTISOCIAL BEHAVIOUR
From Monday 24th October, people can now report fly tipping to Fire Service Direct on 0800 731 5958 between 10am and 4pm.
In an emergency call 999.
To report to Merseyside Police call 101 or visit www.merseyside.police.uk
Or report anonymously to:
Knowsley's Crime and Communities Team by emailing [email protected]
Featured Image © Unsplash.com