A Liverpool-based recycling company is persuading the younger generation that wearing clothes more than once is not the end of the world.
Based in Huyton, Roberts Recycling works alongside charities and collects used clothes directly from people's doorsteps, or from collection banks and exports them to poorer parts of the world for reuse.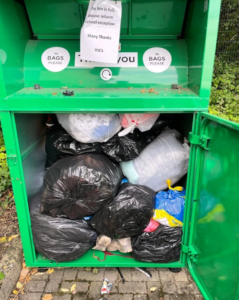 Simon Roberts, director of Roberts Recycling said: "We give our customers the opportunity to go online and book a collection from their home or workplace, which makes it easier for them and will encourage them to do it more.
"Once they've booked their collection, they can choose from a range of charities which one they want to support with their clothing donation.
"A van that will be in their area will then come and collect the used clothes to ensure no additional emissions are released from long journeys."
According to the Young People's Trust for the Environment (YPTE) it has been estimated that in the UK each year around 350,000 tonnes of clothing ends up in landfills sites. These textiles can take as long as 200 years to decompose.
Mr Roberts said: "The amount of clothing in landfill sites is so much more than you'd expect.
"When people think of recycling, they automatically go to separating plastics from food waste but textile waste is a much bigger problem than you'd imagine and one can that people can help with so easily by re-wearing or donating!"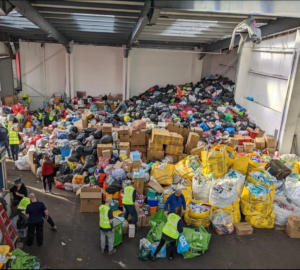 Though the recycling company does aim to make a profit, it also focusses on remaining carbon neutral and helping people in poorer countries by providing cheaper clothes. They ship mainly to Eastern Europe but have recently started distributing to hubs in the Middle East.
Though not all the clothes can be re-worn, the company ensures there is zero landfill waste and so unusable clothes will be made into wiping cloths or used as carpet underlay.
The business wants to eventually become electric-only and have recently invested in an electric collection van that is charged through solar panels on the roof of the sorting facility. They aim to eventually have all 25 of their fleet as electric vehicles.
On the back of Recyling Week 2022, Roberts Recycling went to several schools to give short presentations on donating their clothes. The director said: "We regularly go to schools during assemblies to show the children how they can recycle, what happens to the clothing, how we distribute it across the world and how it has a positive impact on the environment.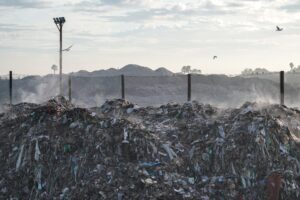 "We need to be encouraging the younger generation that fast fashion is not the way to go and brands like Boohoo, Pretty Little Thing and Shein are why our business is booming because our donations are full of clothes from these brands that look barely worn.
"These fashion giants need to change because they're competing with each other to push clothes for cheaper and cheaper prices and this is having a massive impact on the environment."
The recycling company has won the Queen's Award for Enterprise in International Trade twice for its work in clothes collection and exporting and its work with charity fundraising and donations.
Mr Roberts added: "Big clothing giants need to be able to make clothes that once people are done with can be shredded in to new pieces of clothing to prevent waste."
Featured image © Becca McHaffie/Unsplash