Howie, Luke, Max, Joe, Ellis and Mo make up a six-piece band attempting to take over Merseyside … and the world!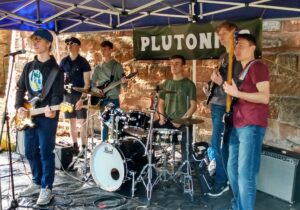 At ages 15 and 16, in Year 11 at Wirral Grammar School, the boys are up-coming stars. Between releasing their first official single "Who Do You Think You Are" this month, and starring in an upcoming documentary with Wirral band The Coral, the boys from The Plutonics are going from strength to strength.
The band is still in its early days, having been formed last year.
"It was about a year ago that we properly started. Ellis came up with the idea of starting an Arctic Monkeys tribute band, messing around with covers and stuff," said Howie.
"And I knew that Joe would be on drums, and then we didn't have a bass player. So we decided to stick the best guitarist in the school on bass – Max. Then after that, we did some horrendous recordings with me singing, so we brought Howie in and it evolved from there really."
With their origins as a tribute band, it's clear where The Plutonics find their inspiration. The boys define their sound as indie-rock, taking inspiration from Oasis and The Beatles alongside their music idols, the Arctic Monkeys.
"I'd definitely say Arctic Monkeys are the main one. We've been told our music does sound very similar to Arctic Monkeys by a lot of people."
Their debut single was released this month, an original song written by Howie and Luke.
"It's called Who Do You Think You Are?. I think we started writing it during filming for the documentary. Luke came to my house after we'd done filming. We were just like, let's get a song done.
"We wrote the whole song and then we played it in front of everyone in the band…it went down well! When you're writing a song you've got the basic idea of it and over time you start adding things and that's how you get the finished product. So, that's what we did."
Between writing and recording new music, the six teenagers have been filming for an upcoming documentary, working with Merseyside band The Coral. Whilst the details of filming stay secret until its release, the band shared the process of getting the role:
"We got [the documentary] just as I joined the band. It was probably a week after I joined. Everyone had already been to the recording studio apart from me and Mo, and someone listened to their recordings and emailed the people who were doing the documentary and were like 'I think you should have these in the documentary' so we got an audition in New Brighton, where we played Dreaming Of You by The Coral, as it obviously fits documentary. They took us up based on that."
Between recording and filming, the boys are working hard to get their name known in the local music scene. They recently had their single played on a local radio station, as well as playing a four-hour set on the finish line of Chester marathon.
"It was definitely a good learning experience for us. But, I don't think we'll ever play anything that long again."
"There was loads of positive feedback, loads of people videoing us and taking photos. One guy even came up to us and said 'your music is so good, can I take a photo with you?'.
"So we had a photo, a proper photo, with this guy. I felt dead famous I'm not going to lie. It was definitely a learning curve and it was a lot of fun."
"We're just trying to get our name out there at the moment, trying to play as many gigs as we can. We're not bothered about money really, just about getting our stuff out there."
The boys will continue to work hard to get their music heard, with the promise of more songs over the next year. And when asked about their goals, they had a simple answer: "Playing Glastonbury main stage."
You can follow The Plutonics on their Instagram page: @PlutonicsOfficial
Feature image © The Plutonics