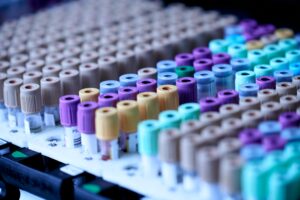 Staff shortages have meant Merseysiders rushing to donate blood face delays in getting appointments, and as a result an amber alert remains in place over supplies.
Last week, the NHS confirmed that their blood stock, specifically O negative and O positive, had fallen to a critically low level which prompted warnings that hospitals in England may have had to cancel nonurgent operations in order to protect their stocks. 
Normal standard for hospitals is to always hold at least six days' worth of blood stock, however, stocks last week were at three days' worth, and levels of O-type had dropped to less than two days' worth. O negative blood is the universal type that any patient can be given, making it vital during emergencies and when the blood type of the patient is unknown. The fact that it was running so low was very concerning for health care.
However, within 24 hours of the NHS releasing the amber warning, members of the public were calling in from all over the country and using the app to book appointments to donate their blood. The donor website became so busy, people were waiting in queues and phone lines run by NHS Blood and Transplant saw a significant increase in calls.
However, the amber warning will still stand. Some are arguing that the government are to blame for the severe staff shortage due to significantly underpaying NHS workers.
The NHS Blood and Transplant press office explained that the public response to the amber warning was very heartening and they appreciated the willingness of everyone wanting to help – but the issue now is a shortage of staff.
Niki Belville, a nurse in Liverpool and regular donor, said: "I think it is due to chronic staff shortages after 12 years of Tory underfunding members with acute staff sickness and public reluctance to attend centres because of the pandemic."
Though thousands of appointments have now been made, the problem is getting enough staff in every day. Blood stocks have been difficult for the NHS to maintain since the pandemic, from staff shortages and sickness to a change in donor behaviour due to Covid regulations and restrictions, it has been very difficult to keep a good level of blood stock.
Underfunding for NHS workers has been an issue for as long as anyone can remember. But Niki Belville added: "Please continue to donate even if you can't get an appointment for months and preserve with the booking system. It could be yours or a loved one's life you're saving."
Rachel's experience of giving blood
After seeing the NHS release the amber warning for the low blood stock, I knew I couldn't not donate.
I have been registered with the Give Blood organisation for a few months, but decided to book myself an appointment last week using the app.
Normally, it is a very quick and easy process to book through the app, however, with the high demand following the release of the amber warning, I was left waiting in queue before finally getting through and managing to find a slot for next month. Although this is a good sign as it is showing the amazing response from the public, it is bittersweet as it is also showing the lack of staff.
It is so obvious that NHS workers are significantly underpaid, and I think this is something that the government need to focus on for the sake of people's lives and the respect of people who give so much time to help the public.
Feature image by Testalize.me on Unsplash