The River of Light festival is returning this weekend around Liverpool City Centre. This year the festival will be returning but with only ten exhibitions, it is set to turn from October 21 to November 6 and will be along a 2k route across the city centre.
The theme of the free event is Unexpected Twist, which relates to the World Gymnastics Championships 2022 also taking place in the city. The event takes place daily from 5pm until 9pm with artwork that has never been seen before.
One of the new commission pieces is entitled 'BEAM' which has been completed by the acclaimed Lucid Creates. The artwork features a beam of light that concludes in a twisted ending. It is located at Canning Graving Dock, opposite Museum of Liverpool.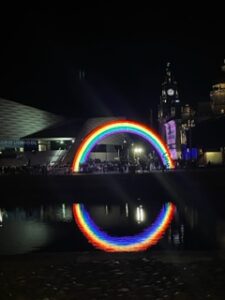 The festival was a huge success last year for Liverpool. The festival consisted of a trail of 12 light exhibitions around Liverpool city centre and created a huge buzz around the city, getting everyone into a festive mood.
Last year, the theme was 'Rhythm of the Light' with each of the artworks being inspired by the relationship between the city, music and light which was very fitting for the city due to our musical background.
One of the most iconic features was the lit up rainbow by the Museum of Liverpool, the gorgeous exhibition was placed perfectly to reflect into the water, creating a magical illusion.
The exhibition was called 'Rainbow Bridge' and was a 30.5-metre-long, 9-metre-high rainbow made up of more than 25,000 programmable LEDs which displayed changing visuals and messages. This was the first time the rainbow was seen outside of America.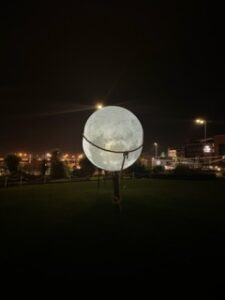 Another amazing exhibition last year was 'Ursula Lossos the Moon' in St Michael's Gardens, located near the Liver Birds.
The light feature was a slowly rotating illuminated moon with a rope tied around it. The highly-detailed exhibition was so popular, you were actually escorted throughout the gardens to avoid a bottleneck of people.
If the response from last year is anything to go by, this year's festival will be something to experience. Keep an eye out on Mersey News Live for updates.
Features image: Marcus Cramer at Unsplash.com