Autism In Motion is a local charity set up by two mothers which aims to support the families of children with neurological conditions such as autism and ADHD.
Jo Galbraith and Hannah Bloor set the organisation up after struggling to find support for themselves and their children. The charity now helps around 5,000 people online and in person.
They provide counselling sessions for the children and have a wide range of activities. Their timetable spans from physical activities like whack-it-ball and dance, to sleepy yoga that helps wind down after a long day.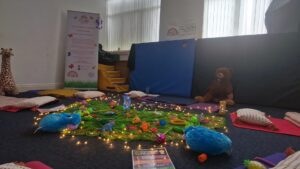 Founder Jo stressed how beneficial the sleepy yoga sessions are to children with neurological conditions such as autism and ADHD, saying: "These children don't produce melatonin the same way we do, so it can be really hard for them to relax and get to sleep."
There are also weekly coffee mornings for parents and carers on a Tuesday to provide them with an opportunity to talk to other people and make time for themselves.
The Fazakerley-based charity is now planning to build a sensory room for the children and are currently aiming to raise £1000 on their JustGivingPage page. The room will provide the children with a space for private counselling or with a quiet room to escape to when they get overwhelmed.
Jo stressed how beneficial the space will be, saying: "Lots of our children love the lights, the sounds and the touch. They seek this stimulation."
She also explained how sensory rooms benefitted her personally: "When my daughter was a baby she has lots of developmental delays and I used to use a sensory room to go through her physiotherapy and I truly believe it benefitted her."
They have continued to raise money through events such as their summer fair, however locals have also stepped up to help. North Shore Troubadour have arranged to have charity buckets outside of their Old School Rave events on November 5.
Watch our video report as Mersey News Live speaks to Jo Galbraith, the founder and organiser of the project, at Autism in Motion.
Featured image © MerseyNewsLive