It's official! Liverpool is the host of Eurovision 2023 … but the news hasn't been greeted with universal glee.
The city is holding the event honour of this year's winner Ukraine, which is not seen as a safe country due to the war with Russia. The tradition is that the winners of last year's Eurovision host the following year's show.
However, as Liverpool was announced as hosts for 2023, hotel and Airbnb prices increased dramatically, some charging up to £8,000 a night for a spare bedroom in their house! People are outraged as it is making it near impossible for people to come and stay in the city during the event.
This is just one example of an apartment for rent on Airbnb during the time of Eurovision which takes place on Saturday May 13, with the semi-finals on Tuesday May 9 and Thursday May 11.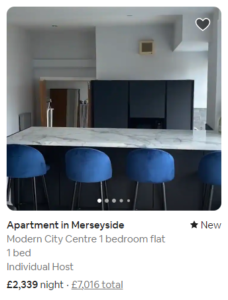 MNL spoke to an Airbnb host who has not put out her prices yet for the weekend of Eurovision and asked her what she is planning on doing. She said: "I haven't thought about it yet to be honest but we are hiking our prices for the open golf in July, if I do put it up then it will only be slightly."
Asked what she thought about prices reaching £10,000 a night, she said: "To put their prices up to £10,000 seems greedy. However, if there are people who are willing to pay that amount, then each of us would probably have to be honest and say if there was a legal way of earning £10,000 for a week then we would probably do it".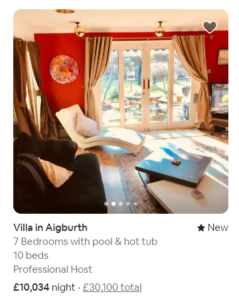 As an example, MNL found a house in Aigburth – about a 10-15 minute drive to the arena where Eurovision will be staged – which is charging over £10,000 a night. However it is very luxurious with seven bedrooms and a hot tub.
Liverpool's Metro Mayor Steve Rotheram slammed the "grossly inflated prices". Mr Rotheram said: "Eurovision is supposed to be an occasion where everybody comes together in the name of peace, love and understanding. It's a multi-coloured and multi-culture spectacular."
It was a battle between Liverpool and Glasgow to see who was going to honour Ukraine next year. With Liverpool's rich music history, there is no doubt that it will be a celebration to remember.
It was a moment of history this year for Britain when Sam Ryder, who represented Britain, came second place to Ukraine. Ukraine won the right to host the pop extravaganza when its entry, folk-rap ensemble Kalush Orchestra, won this year's contest.
Featured image – Skyline by Atanas Paskale, Unsplash.com