"We need to make sure Newpool is as safe as it was before. Well that sounds like a tomorrow job, mmm isn't it hard being the law"
Beginning the week with a sell-out show, Hindley and Amos performed their never-before-seen piece, Not Drunk but Disorderly, at the iconic Liverpool Bombed out Church.
The packed-out marquee was filled with absolute joy as Megan Hindley, 22, and Beth Amos, 23, laughed, rhymed, and arrested to their hearts' content.
Enter Newpool, a small village with nosy neighbours and dopey cops.
Howard and Geoffrey, the stars of the show, are policemen with a knack for doing the absolute least.
So, what do you give the worst policemen in the game? A dead body? No that's not enough, a missing dead body!
The duo played nine characters between them in an hour-long show that you won't believe how they remember all the lines.
With animated faces, perfect postures, and excellent accents you will be creasing in your chair.
Hindley and Amos both started their musical theatre careers young, choosing dance to begin with, but realising their passion was for drama.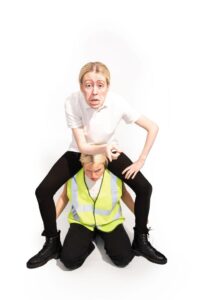 After both joining the undergraduate degree at Liverpool Hope, the pair did not become friends until after they started performing.
Once recognising a similar work ethic and discipline for the craft, the two realised they might be on to something.
LIPA seemed like the perfect next step – one Meg was ready for since her first year at Hope.
To which the fantastic Hindley and Amos was born.
After a fantastic first performance and multiple rave reviews, we caught up with the modern Laurel and Hardy to hear their side of the story.
How do you feel your first show went?
Beth: We are over the moon.
Meg: I don't think it could've been better.
I can't believe the gifs we got from when the police siren went past and when we'd mess it up, but we'd make it better and I think that's what makes a good show.
Beth: One of our biggest compliments was when people say to us you look like you were having so much fun because we genuinely were.
We feel really overwhelmed by all the support, everyone has had so much fun, and we got our first review!
Meg: I don't think I could've written it better.
So, tell me a little about Howard, Geoffrey, Ruby, Cheryl, Tracey, and the other residents of Newpool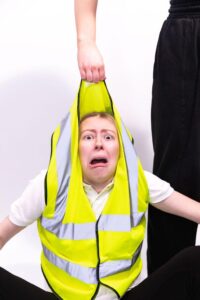 Meg: So we're very sketchy as you can tell. We started writing bits at a time, we didn't sit there going we're going to write a play.
Beth: We always liked the idea of police. It was the: morning Geoffrey, morning Howard, coffee Geoffrey? Oh, you know me so well Howard I'll have a tea, please. I love that line.
Meg: And this was during lockdown when rules were getting told and we thought, is a joke? and then we started to look at the ridiculous laws in the UK.
Beth: You can still get arrested now for looking suspicious with a salmon.
How was it going through Liverpool Theatre Festival?
Meg: A lot of festivals you can just apply and do it, whereas this you had to get selected by a panel.
Beth: We got marketing and tech included, we got money to put it on, and we got half of our tickets sales it's amazing really.
Meg: You've got to be from Liverpool or Merseyside so for me that was nice as you don't usually see many from Merseyside.
What kind of sets did you have?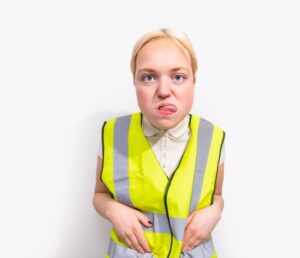 Beth: Our aim is never to have elaborate sets, we literally had a table, a couple of crisp packets, a bottle of Lucozade.
Meg: What I loved is we had papers and I wanted it to be our script, so we ripped It up and had it all on the table.
Beth: My uncle David's a mechanic and he got us a car door for free, we didn't need all the lights, we didn't want that.
Meg: We are enough, we aren't your normal [actors], we're very big, our faces are crazy. It's too much if there's a lot going on and big sets.
Also, we said that the writing is so amazing and if there's a lot going on you'll miss that.
Was it a smooth rehearsal process? 
Beth: A week before the show we changed a lot.
Meg: It was Thursday and we performed on Tuesday.
I stood there going, I don't know…
I'm a perfectionist and I was looking at it thinking it looks a bit messy, something's not right, something wasn't there for me.
Beth: For each of the characters we had a prop, we spent so much money to distinguish characters, for instance, Tracey had a scarf and ruby had a crossbody, and then on Sunday I realised, it's so chaotic why do we need the props.
From then onwards even on Monday, it evolved it came together.
How do you feel about the future?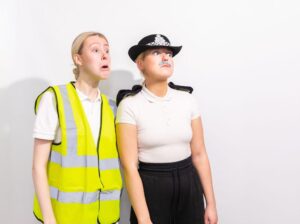 Beth: So, I'm going to get rid of meg!
Meg: I'm better without her! [the pair laughed]
This is funny because genuinely our dream has come true, the fact that we've written a show and sold out and we've got an amazing review.
We just want to sustain that.
Beth: We'd love this to get commissioned for a theatre, a producer, and an artistic director to come along and say we want to put this on everywhere, we want to tour with this.
Whatever we do it's going to be hilarious, it's going to be silly, it's not going to be serious because that's not us.
Meg: Of course, it's always going to have a poignant moment or a time of reflection, something topical, something current.
Beth: In our 3rd-year piece, we met this lovely director called Kerry Frampton, she always used to say, within comedy you have to have a bit of tragedy and within tragedy, you have to have a bit of comedy and our rule is we wanted to make it funny, but we wanted a little bit about how women don't feel safe.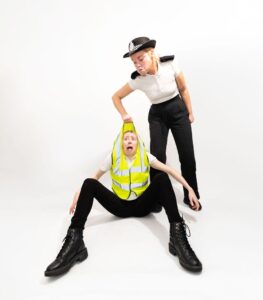 Not Drunk but Disorderly shed light on a dark moment within policing.
Reflecting on current society within comedy is vital to the duo and they are keen to incorporate this factor into future plays.
Hindley & Amos are heading to Brighton Fringe and then Manchester next.
They hope to bring out more Merseyside dates in the future.
(The interview has been edited and compressed for clarity. All images used with permission by Emma Burnie)
A classic with a twist: Jack and The Beanstalk at The Epstein Theatre