Jack and The Beanstalk is a twist on the classic tale that we all grew up with as kids and you can catch the show at the iconic Epstein Theatre in Liverpool until Sunday April 24 for an Easter treat. 
There's a talented cast who are seasoned panto performers who know how to engage with their audience.  
As someone who takes themselves far too seriously, I'll admit, even I wanted to join in.  
I danced, I sang, I booed and all of which reminded me how fun it is to be child-like. Would I recommend the show to singles, couples and parents alike? Yes. Tickets start from £14, and they were totally worth it.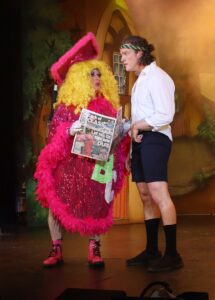 Jack and the Beanstalk pays homage to the original fairy tales, where our hero is a poor dairy farmer who lives with his domineering mother, Dame Dolly Trott and is played by Mark Two, who has a penchant for garish outfits, terrifying clown make-up and silly, slapstick-style comedy.  
Jack, a.k.a Timothy Lucas, steals the show with his palatable Scouse accent and throws in a few dirty jokes, which, thankfully, go over the children's heads. Had this not been performed with Scouse accents, and a Will Smith joke thrown in for good measure, I don't think I would have enjoyed it so much. 
With the aid of Fairy Mary, who is glamorously played by Jenna Sian O'Hara, Jack is given magic beans to save the princess who has been imprisoned by the giant. Jack "really fancies" the princess, who is played by Maddie Hope Coelho and has a beautiful singing voice. I almost believed she was a princess.  
I'll admit there was a slightly odd transition in the middle, where Jack and co are attempting to escape from the giant, where we saw Olaf from Frozen appear and a waddling of ducks performed the Can Can. My confusion could have been caused by the Pinot Blush or there was a deeper meaning that I missed. I couldn't help but think there was a metaphor for life in there somewhere.  
Even if you are not a theatre aficionado, a visit to the Epstein is a must for any historian. Constructed in 1913 and was once known as Crane's Music Hall, it has survived two world wars and was renamed after the Beatle's manager, Brian Epstein.
The theatre has beautiful interior architectural features and feels intimate with only 380 seats.  
This pantomime achieves a lot; there's a villain, a princess, a hero, a trusty guide and sidekick. All these characters give their energy so that the audience can feel the magic and experience a quirky and enjoyable take on a classic fairy tale. Don't miss it.  
♦♦♦♦
All imagery was captured by David Munn Photography.