Lockdown was tough for all, many felt isolated and alone, and some turned to the bottle.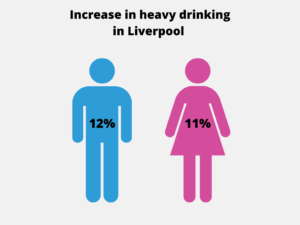 Liverpool City Council has published its Public Health Annual Report (PHAR) for 2021 which includes the statistic that 'heavier drinking (4 x a week) had increased by 12% in men and 11% in women.'
A study from the University of Liverpool states that out of 539 participants, 26-48% had reported drinking more during the lockdown.
The drinking became hazardous when many would drink at home alone, rather than socially, as a way of coping with the pandemic.
This caused a rise in alcohol-related deaths, with 2020 recording the highest numbers since data collection began in 2001, with 8974 counted.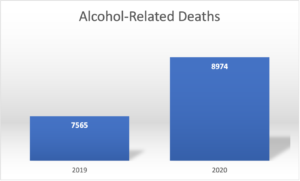 Covid19 lockdowns began on March 23 2020 when Boris Johnson, the Prime Minister of the UK, announced a stay-at-home lockdown.
This was to ensure vulnerable people stayed safe while trying to contain the coronavirus outbreak.
However, this meant entire lives changed for many.
The uncertainty of the virus, losing jobs, and loss of family members are all factors for an increase in alcohol intake during the pandemic.
Cara Lowry, 27, an A&E nurse said: "Well, I noticed 100% in work the demand for alcohol-related beds increased.
"More people were alcohol-dependent and prescription drug-dependant.
"There are a few places that help you with alcohol addiction but by no means can cover the increased demand," Cara continued.
People were unable to get to GP or other substance abuse help due to fear or feeling like a burden during such a strenuous time for the NHS, which could also have caused an increase in intake.
Ian Canning, Advanced Public Health Practitioner from the Liverpool Public Health Department said: "In the last three years, the numbers accessing structured treatment in Liverpool have been decreasing and evidence would suggest there is a significant challenge in relation to un-met treatment need in the city.
"Therefore, in response, Liverpool Public Heath are currently planning to carry out a needs assessment to get a greater understanding of the strengths and weaknesses in the system.
"Most people however will not require the support of a specialist alcohol service to address their alcohol consumption but may benefit from easily accessible information and advice as to how they can change their drinking behaviours," Ian continued.
He also highlighted how people can use Drink Less Feel Good in order to educate themselves and understand how alcohol affects their body and how to get help if needed.
Portsmouth Hospital created a graphic on Twitter to highlight to users how alcohol can affect your body since the alcohol sales have increased:
Alcohol sales have increased during the pandemic with studies reporting between one third and one fifth of people drinking more during lockdown. Excessive alcohol use can cause both physical and mental health problems. If you'd like support, contact your GP #AlcoholAwarenessWeek pic.twitter.com/IORtLB8eIJ

— Portsmouth Hospitals University NHST (@PHU_NHS) November 17, 2020
If you noticed an increase in your alcohol intake during the pandemic and want to get help, here are some helplines to call:
Sanctuary Family Support (open 9 am-4:30 pm) 0151 735 0747
FRANK (open 24 hours/365 days) 0300 123 6600
or speak to your GP
Featured image by Artem Labunsky on Unsplash
Graphs created by Georgia Chapman