Sober October is regarded as Dry January's lesser-known sibling – but with the rise in lockdown drinking and with clubs open once again, many are using this opportunity to ditch the drink. 
The Liverpool region has one of the highest incidences of alcohol addiction. As Sober October draws to an end many are using this time to reflect on their drinking habits.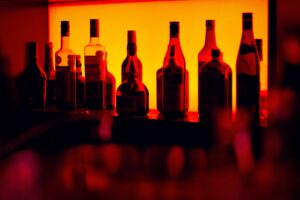 Macmillan Cancer Support have been running the annual fundraiser which challenges participants to give up alcohol for a month. So far over £1.5 million has been raised for the charity. 
Macmillan say participants may benefit from 'a clearer head, more energy, sleeping better, weight loss and a sense of achievement.'
Glyn Mon Hughes from Wirral is taking part in the Sober October challenge. He spoke to Mersey News Live about how this experience has benefitted him. 
Since taking part in the event, Glyn has noticed a myriad of changes to his lifestyle. He said he's 'dropped a stone' since he stopped drinking alcohol for October.
Glyn no longer finds it so difficult to sleep. He said: "I've noticed when you get up in the morning, you're more lively, my sleeping patterns have changed incredibly." 
The charity describes the event as 'an 18+ fundraising campaign aimed at challenging social drinkers to change their habits for a month and make some healthy lifestyle changes. We would encourage people to drink responsibly and stick to the recommended daily guidelines for the rest of the year. We advise heavy drinkers or people dependent on alcohol to speak with their GP before signing up to Sober October'. 
However, the event has raised awareness about the drinking habits of the UK and Liverpool and asks people if it's time to reduce the amount of alcohol we consume. 
A report published in 2018, found an estimated 115,700 adults in Liverpool drink more than recommended, over 14 units weekly.
 Furthermore, 76,800 of those were classed as binge drinkers. Read more on the report here: Liverpool CCG – Alcohol summit in Liverpool . 
Although Glyn didn't struggle with alcohol addiction, he said taking part in this challenge has positively changed his drinking habits. He said: "Rather than having something to drink say two or three times a week, which is all we ever did, just drop it down to once a week." 
Having a few drinks on a Friday could be the way forward for Glyn. He said: "It just seems like a more sensible way of going ahead and a more sensible way of living."  
The House of Commons published a report this July outlining the North West were 27% more likely to drink over the recommended limit. 
Worryingly, Liverpool was named as the third highest region for alcohol-specific hospital admissions in 2019/20. 
So, is going sober this month enough or should more steps be taken in the city to combat alcohol addiction? 
If you or someone you know is struggling with alcohol addiction, Liverpool has a range of charities and support groups available. Many of which can be found through the NHS here: Drug and Alcohol Service :: Mersey Care NHS Foundation Trust. 
For the full interview with Glyn listen here: