Additional reporting by EMMA CARTER
The River of Light Trail has made a dazzling return to the waterfront of Liverpool over the weekend. The public have been given the opportunity again to venture around the 2km loop of lights.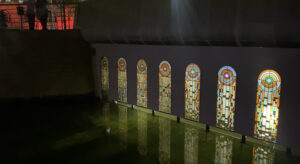 Liverpool's world-famous waterfront showcases 12 pieces of artwork each night for more than two weeks. Artists from all around the world have joined together to produce many show-stopping masterpieces. 
The outdoor illuminations made a reappearance last Friday, running for 17 nights. The installations light up the city from 5:00 -9:00pm.  
This year's theme is Rhythm of the Light with each artwork inspired by the relationship between the city, music and light. The music flows through the streets of Liverpool with the light piano.  
The trail held earlier this year was launched on the anniversary of when the first lockdown began in England in 2020. Visitors, at the time, were urged to wear face coverings at all times and had to stick to the household or support bubble groups, while maintaining social distancing. Many complaints were made about the lack of social distancing rules being followed.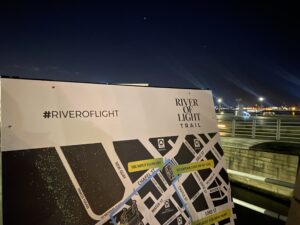 The trail was harshly criticised earlier this year due to no social distancing measures in place. This year the organisers have been working closely with Public Health Liverpool and the Safety Advisory Group to allow a Covid-safe way.  
The 12 art pieces displayed along the route are Dance Together by Lucid Creates, Fly By Night by The Kazimier, The Pool by Jen Lewin, Wave by Squidsoup, Liverpool Love of My Life by Chila Kumari Singh Burman, Limelight: Saturday Night by Sans Facon, Sonic Runway by Rob Jensen and Warren Trezevant. Iconic Site by Sans Facon, Nova by Squidsoup, Spriteworks by Pastle Castles and The Kazimier, Trumpet Flowers by Amigo and Amigo and Light Piano by Kleurbleur presented by Light Art Collection completes the installation line up. 
The outdoor illuminations certainly lived up to expectations, as it leaves the city shining even brighter this autumn. The art pieces are less interactive this year, with many fenced off.  
The city has been very busy over the weekend with crowds of people flooding to the docks, whether that is because of the light festival or the half term for schools.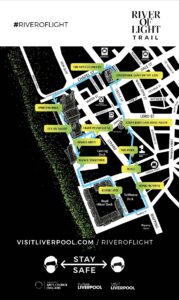 With the exhibition running across the October half term, it gives the perfect opportunity to take the kids down to the dock to enjoy a magical experience. The outdoor art gallery will be closing on Sunday, 7 November.  
To find out more about the exhibition, visit: https://www.visitliverpool.com/riveroflight
[Video report by MAIA NODEN]