Lee Thornley, aged 17, took his own life on 22 February 2018. His close friends set up The Lee Cooper Foundation in his memory, in the hope of preventing other teenagers from suffering with their mental health in silence. They describe themselves as 'a foundation run by young people, for young people'. They also shared their goal of breaking down stigmas surrounding mental health, and creating a space where open and honest conversations can be undertaken.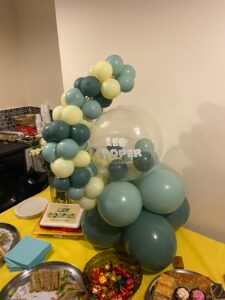 Celebrations at the launch of The LCF Hub.
According to NHS Liverpool: 'Over 66,000 people have a mental health condition, with depression, anxiety and serious mental illness depriving many of a good quality of life.' The Coronavirus pandemic has also affected young people's mental health negatively. 
Young Minds conducted a survey at the beginning of 2021 where they found that 67% believed that the pandemic would have a long-term negative effect on their mental health. 
Mental well-being became a worry for many during national lockdowns with isolation and loneliness causing issues nationwide. Lily Spendlove, co-founder of The Lee Cooper Foundation, said: "We act as a bridge between our young people, and the endless waiting lists for our underfunded mental health services."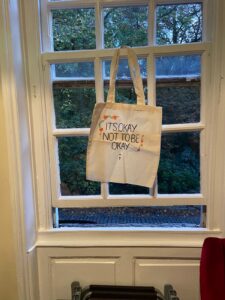 Message reads: 'Its okay not to be okay'
The foundation launched their new hub in Prescot last week. They have been operating since July but due to Covid restrictions they were unable to hold a large event. The evening celebrated the move to their new home with a tour and an open meeting where the team told us about the work they do at the hub.  
 "Talking about suicide does not increase the chances of suicide, not talking does." The LCF 
All of the members of The Lee Cooper Foundation team are qualified in Level Three Mental First Aid. They are also soon to be trained in Level Three Safeguarding. They aim to: 'Provide free and accessible mental health support to young people. We deliver support that is tailored to the wants and the needs of our young people.'
Some of the activities on offer are:  
"Let'sChat" drop in sessions 

 

Listening and Talking therapy 

 

LGBRQIA+ Support

 

Cognitive Behavioural Therapy (CBT)

 

Mindfulness and Yoga

 

Football Therapy

 

And more.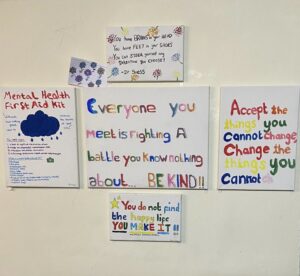 Artwork created at the foundation.
Since beginning in 2018, the foundation has received recognition from the Mayor of Knowsley. The foundation was their charity of the year 2019/20.
They are also the Mayor of Prescot's charity for 2021. In July of this year, Lily Spendlove, co-founder of the foundation, met with Her Majesty the Queen. She received praise for the work that the foundation has done.
Lily explained the motivations behind the foundation: "When Lee died we realised there just weren't mental health support available in the area and the support that was available there was endless waiting lines that are taking the lives of our loved ones."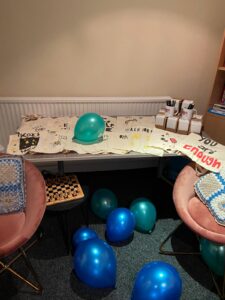 Tote bags created by members of the foundation. Photos by Mark Jones.
Young individuals don't need a prior mental health diagnosis to be referred. They can just be having a bad day or a bad week. They suggest reaching out through email or through their website for the fastest response. However they are available through all social media platforms.  
Over on their website you will also find a list of other organisations that the LCF works with that provide mental health support: Signpost Directory (theleecooperfoundation.co.uk) 
If you or someone you know is struggling with their mental health and is in immediate danger, please contact 999 or the Samaritans who offer 24/7 support, by calling 116 123.