A Liverpool man is on an Ultra-marathon mission to raise money for Claire's House Children's Hospice.
James Brown, 60, who is a personal trainer and sport and rehabilitation therapist from Netherton, will stop at nothing for a challenge.
For the past eight years, James has been involved in events which have raised money for Help for Heroes and Claire House Children's Hospice Wirral.
He has taken part in gruelling events such as Tough Mudder, Europe's Toughest and World's toughest Mudder since 2014.
In 2019, James began running Ultra-marathons, which are marathons that are generally over 30miles long. James' Ultra-marathons have ranged from 50 to 215 miles long.
After being approached by a friend, James ran an Ultra-marathon for the charity Claire House Children's Hospice, a charity close to his heart, in 2019, running from coast to coast along the Southern Upland Way where he finished 14th place overall.
He said: "My fundraising for Claire House comes from my youngest daughter having a major operation 10 days after her birth, and so me and my wife lived in hospital for three weeks."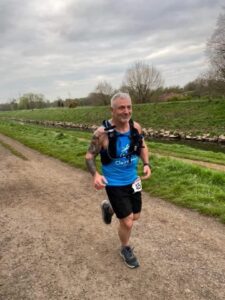 Due to the Covid-19 pandemic, James missed out on one of his favourite events: The World's Toughest Mudder in 2021.
However, James didn't let this stop all his running, with instead deciding to run 1099 miles over 25 days for his 60th birthday from John o Groats to Lands end last October. James raised money for Claire House on a just giving page.
James' most recent Ultra
In April this year, he rallied together a team of 18 runners for a 50-mile Ultra marathon run from Manchester to Liverpool in aid of the same charity. This was 'just a jog' for James!
James said: "14 of these runners had never heard of an Ultra 12 months ago. And yes, it was tough but they did it!"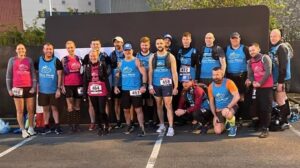 James told of how he's always enjoyed running for charity, saying: "My first fund raiser was the Pennine Way which was 257 miles back in the 80s which didn't raise as much back then.
James originally came from a boxing background and hated running. However, he says: "Running is now my safe place where the pain of running is a medicine as it makes me look into myself and relies on my inner strength."
He has shared his other reason for completing such extensive runs for charity, saying: "If my events can get others to support charities, it can only help."
James' Just Giving page
James and his fellow runners have raised over £7,000 for Claire House so far from their Manchester to Liverpool run in April, which is double their initial £2,000 target.
You can continue to support James' fundraising efforts for Claire House Children's Hospice on his Just Giving page here.
Merseyside runners raise thousands for charity at half marathon