The first of ten plaques explaining Liverpool streets' ties to the transatlantic slave trade has been unveiled on William Brown Street.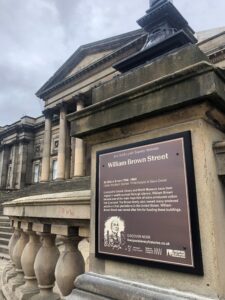 The 'Eric Scott Lynch Slavery Histories' plaques are named in honour of Eric Lynch, a local activist and historian who educated people on the cities ties to slavery for decades.
The city-wide project is supported by the family of Eric Lynch, Liverpool City Council, National Museums Liverpool, Liverpool Black History Research Group and the Kuumba Imani Millennium Centre.
Eric was given a citizen of honour title in 2018 for his devotion to black history education in Liverpool.
He died in 2021 after years of running guided tours in the city. He can be seen on the new plaques.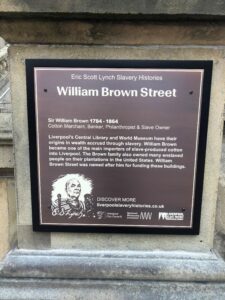 The plaque reads:
"Sir William Brown 1784-1864. Cotton merchant, Banker, Philanthropist and Slave Owner"
"Liverpool's Central Library and World Museum have their origins in wealth accrued through slavery. William Brown became one of the main importers of slave-produced cotton into Liverpool. The Brown family also owned many enslaved people on their plantations in the United States. William Brown Street was named after him for funding these buildings."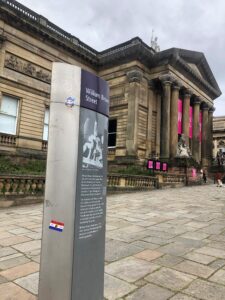 The new plaque is in contrast to an older sign placed further down the street which reads: "William Brown Street was named after the local MP whose generous donation made the museum building possible."
Eric Lynch's son Andrew was among those who went to the unveiling.
He said: "These plaques stand testament to the educational work that my father Eric Scott Lynch carried out.
"Over many years, he strove to give the people of Liverpool a deeper understanding of the central role the city played in shaping the modern world."
Today with @Kuumba_Imani @lpoolcouncil, @AndSlavery, Nasra Elliot, and Andrew Lynch, we unveiled the first plaque on William Brown Street explaining the namesake's links to Slavery. Make sure to have a look when you next visit @World_Museum, @walkergallery or @Liverpoollib pic.twitter.com/MzJnzBSNbL

— International Slavery Museum (@SlaveryMuseum) April 5, 2022
Laurence Westgaph, historian and founder of Liverpool Black History Research Group also attended the unveiling.
He submitted a list of streets in Liverpool with ties to slavery prior to the council approving the project in 2020.
Most of the suggested streets, which include Bold Street and Falkner Street, will see plaques installed within two years.
Mayor of Liverpool, Joanne Anderson said: "This is a milestone moment for Liverpool in its reconciliation with its past.
"The unveiling takes place in the same month as Liverpool Against Racism. A powerful and unique event which will shine a spotlight on the racism and discrimination endemic in today's society."
CEO of the Kuumba Imani Millennium Centre, Michelle Charters, said: "It has truly been an honour to get to the point of the first of many 'Eric Scott Lynch Slavery Heritage' street plaques. Especially when Eric had conducted hundreds of Slavery History Trail tours over the decades.
"This will leave a legacy in his name to his tireless work he did in uncovering the facts and educating many individuals and organisations of the true involvement as a city, in the transatlantic slave trade and its impact on the growth of Liverpool from the 1800."