The Little LFT festival will be staging twelve new shows to entertain audiences over the course of six days at St Luke's Bombed Out Church.
The Little LTF is a similar event to the main Liverpool Theatre Festival. It was founded by award-winning Liverpool theatre producer Bills Elms.
Last year the Little LTF attracted 1,200 festivalgoers.
This year, the 12 new productions, chosen from more than 30 entries by an experienced panel of industry professionals, will premier over six days in an intimate, marquee setting at the church.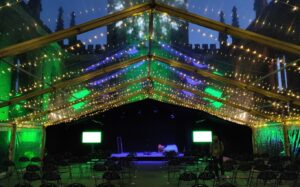 Producer and artistic director Bill, who recently won the title of Covid-19 Creative Response (Individual) at the Liverpool City Region Culture and Creativity Awards, said: "When we launched Little LTF last year, we were overwhelmed by the response both from creatives and from our audiences who flocked to see the fantastic range of new work staged at the Bombed-Out Church.
"I can't wait to see them staged for the first time and I know our audiences are going to be just as inspired and entertained by what they see."
The 2022 festival will open on Tuesday May 3 with Mega Hindley and Beth Amos murder-mystery comedy 'Not Drunk but Disorderly' and conclude on Sunday May 8 with powerful Hillsborough play 97+ by Tom Cain.