The visit of a award-winning technology expert has inspired Liverpool School students to form an all-female computer coding club.
Pupils from The Academy of St Francis of Assisi were visited by Lady Mariéme Jamme.
She encouraged the pupils to follow careers in Science, Technology, Engineering, and Mathematics.
Miss Jessica Haig, the school's subject leader of ICT, explained how the pupils' interest helped her set up the lunchtime club.
She said: "The girls will get to choose the types of projects they work on.
"This is important as it will give them experience of planning and managing tasks independently.
"We've started to build a really great relationship with Lady Mariéme and I hope this continues."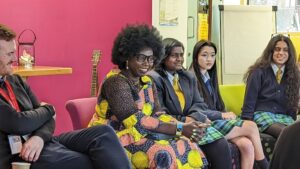 A French-British businesswoman, Lady Mariéme is an expert in system change and technology
She spoke about launching a new initiative, iamtheCODE, which aims to get one million girls into coding by 2030, and also donated four computers to the academy.
Dr Aine MacDermott is encouraged by the interest and initiative shown by the pupils.
Dr MacDermott , a Senior Lecturer at Liverpool John Moores University's school of Computer Science and Mathematics, said engaging students at an early age can help pique interest.
She added: "It also demonstrates the usefulness of technologies, coding and STEM subjects.
"Hopefully it will help them learn more about the exciting futures and opportunities available in studying STEM subjects!"