House prices across Merseyside have gone up by 7% as the overall average house price in the region is now £209,816.
In the last year, Merseyside saw house prices rise with an average semi-detached property being sold for £212,460.
According to Rightmove, the average asking price nationally has reached £354,564 this month.
Merseyside is more expensive on average than Lancashire (£197,584) but was cheaper than Cheshire (£298,249) and Greater Manchester (£242,235).
The most expensive house prices in Merseyside are in Heswall, Wirral, and the cheapest are in Walton.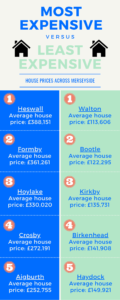 Heswall had an overall average price of £388,151 in the last year with the majority of sales being detached properties. These homes sold for £553,232.
Sold prices in the town have risen 6% on the previous year.
Walton's average house price is £113,606 where the majority of sales during the last year were terraced properties. These prices are up 12% on 2020.
Mark Alcroft, Area Director of North West estate agent Swetenhams and Merseyside estate agents Jones & Chapman said: "The market is currently very strong. It is a great time to be a seller as there is high demand.
"In Liverpool, the postcodes 15,16,17,18 are current hotspots. Liverpool 8, on the edge of the city centre, has become very popular recently, as we have seen an increase in property values by up to £25,000 for a two-bedroom terrace.
"In south Liverpool, Allerton Road has a wide range of good restaurants and small wine bars. Sefton Park, which is surrounded by Victorian properties, is also a good place to socialise, as it boasts a beautiful park with a large lake. Throughout the year here, there is a range of food and music festivals that take place."
He added: "House prices nationally have increased, with buyers prepared to go above and beyond a properties worth. For those looking to achieve the very best price, spring has always traditionally been the best time to sell." 
The costal town of Formby, which is home to Liverpool FC manager Jurgen Klopp and multiple other players, comes in at second most expensive area.
House prices total an average of £361,261 where the average detached property sold for £481,331. The prices remain steady in Formby with a rise of 2% on the previous year.
Third most expensive is the Wirral seaside town of Hoylake where homes sold for £330,020 and fourth most expensive is the Sefton coastal town of Crosby at £272,191.
Fifth most expensive in the Merseyside region is the Liverpool suburb, Aigburth. The average sold price was £252,755 with the majority of sales being flats which priced at £161,430.
Bootle ranks the second cheapest area, where houses were sold for £122,295. Sold prices in Bootle have been rising by 14% each year since 2019.
The Knowsley town of Kirkby takes third cheapest with prices averaging £135,731 and Birkenhead takes fourth cheapest at £141,908.
The fifth cheapest area in Merseyside is St Helens village of Haydock. House prices averaged £149,921 and have gone up by 15%.