Over 2,000 applicants were removed from Knowsley Council's housing waiting list in 2020 despite high demand for homes.  
Some 2,269 completed applications were rendered inactive by the council and removed from the list. 
Between 2014 and 2020 Knowsley Council have removed 17,970 completed housing applications. 
Neighbourhood Manager for Cobalt Housing, Sharon Edwards said: "In terms of general demand versus supply, demand far outweighs supply unfortunately. This is throughout the whole of Liverpool." 
She added: "Demand for one bed flats is very high, as is two bed houses. Demand for larger homes is less but turnover of four, five and six bed houses is very small so applicants are more likely to wait a longer period of time for homes of this size to come available." 
Cllr Tony Brennan, Cabinet Member for Regeneration and Economic Development, said "There are a number of reasons why an application is not made active and subsequently removed from the housing register.  
"The main reason is people submit an online application and then fail to provide the necessary documentation for the application to be verified and made active.  
"When applicants successfully secure a new home, they are also removed from the housing register."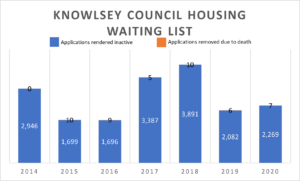 The council say the reasons for removal include no response to correspondence, withdrawal at the applicant's request, applications created in error, applicants have moved away, have been rehoused in the last 12 months or are deceased. 
Other reasons which would cause a household to be ineligible include anti-social behavior and housing-related debt.  
Cllr Tony Brennan added: "Our figures suggest that housing-related debt has remained steady and has not led to increased non-qualification." 
In 2020, seven households were removed from the register due to being marked as deceased.  
2018 saw the largest number of applicants removed with 3,891 rendered inactive and 10 being removed due to being deceased.  
Between 2018-19 it took on average 255 days to be housed, with 1,865 offers being made by the council during that time. 
Knowsley Council, along with other authorities in Greater Liverpool, run a Choice Based Lettings scheme called Property Pool Plus. 
Households sign up to the service and can express an interest in three properties a week. 
The applicants are then ranked by their priority band and the period of time they have been in that band. 
The leading applicant will be offered the property. 
Merseyside housing association Torus said: "According to figures from Property Pool Plus, there are currently over 2,800 registered applications for social and affordable homes in Knowsley. 
"Torus is only one of a number of social landlords who use Property Pool Plus, the register for social and affordable homes in Knowsley, Halton, Liverpool, Sefton and Wirral." 
123 households have been on the register for between five and ten years whilst 23 households have been on the register for 10 years or longer. 
The household that has been on the register for the longest has been on it for 28 years. 
Knowsley Council says that this household renews their application annually but has never placed a bid on a property. 
Due to the Choice Based Lettings scheme, bids are necessary to be matched to a home.  
Councillor Tony Brennan said: "In respect of the current position, our highest demand is for one and two bedroom properties and we are also seeing a reduction in the number of properties becoming available to let from social landlords." 
 Sharon Edwards, from Cobalt housing who manage 6000 properties across the city, added: "Our stock is predominantly 3-bed houses but there is a mix within some neighbourhoods. Demand for all of our properties is high and we can re-let our homes with ease.  
"Cobalt is a member of Property Pool Plus so a minimum of 50% of our empty properties will be allocated via a nominations agreement with Liverpool City Council. This is the same in Knowsley."