Seven men have been jailed for flooding the streets of Warrington with more than £1 million of class A drugs.   
Cheshire Police arrested 25 men between the ages of 19 and 55 on Wednesday 11 August 2021 as part of an eight-month investigation named Operation Spartans.
The Police caught a total of 11 separate county lines that were involving in supplying crack cocaine and heroin rounds the streets of Warrington.
Yesterday, members of  three of the crack cocaine and heroin dealing gangs – namely the Lenny Line, Scouse Billy Line and Jonno Joe Line – were all sentenced in Liverpool Crown Court.
The Lenny Line consisted of Mark Little, 34, of Warrington; Matthew Little, 34, of Orford; Anthony Westhead, 46, of Orford and Barry Jones, 52, of Fairfield.
The court was told that the Lenny Line was responsible for supplying between 0.6kg and 1.9kg of class A drugs, which had a street value of between £61,000 and £122,000.
As leader of the Lenny Line, Mark Little received the largest sentence, totalling 11 years. While his employees, his brother Matthew Little and Jones, were both sentenced to three years.
Westhead was confirmed to be leading the Scouse Billy Line but was also involved with the Lenny Line. He was sentenced to nine years in prison.
Finally, the members of the Jonno Joe Line consisted of Tre Freeman, 19, of St Helens; Connor Houghton, 20, of Lymm and Ellis Rigby, 19, in Latchford.
The court heard that a total of 7,207 flare texts were sent out by the gang in the 88 days it was in operation. It was estimated that the line was responsible for between supplying between 516g and 1kg of heroin and crack, valued at between £67,000 and £134,000.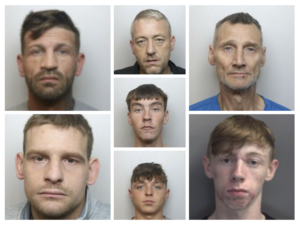 Freeman was sentenced to six years, Houghton received five years and eight months and Rigby was sentenced to two years and four months in prison.
The remaining crack cocaine and heroin gangs, namely the Long-Haired Luke Line, the Scouse T Line, the Scouse Joe Line and the Curly Line are due for sentencing at the Crown Court today.