The manager of a Liverpool asylum organisation has branded the government's Ukrainian visa scheme "a bit of a con".
The government announced the Ukrainian Family Scheme earlier this week and Michael Gove has confirmed "unlimited numbers" will be allowed to live here for three years.
Asylum Link Merseyside has been providing support to those seeking asylum in Liverpool for the last 20 years and manager Ewan Roberts is sceptical of the government's claims.
He said: "The scheme is a bit of a con.
"All those fleeing Ukraine are clearly refugees and should go into the asylum system, yet they will only be allowed a visa entry if they have family here or can hook up with a charity/individual.
"The government is saying you can only be a refugee if you fulfil our visa requirements – there is no such thing as a refugee visa and while the scheme is better than nothing, it is certainly not what was envisaged in the UN51 Convention."
The Greater Manchester Immigration Aid Unit, who assist in asylum claims in Merseyside, are still currently still advising that there are "no updates on ways to claim asylum in the UK from Ukraine."
They are only giving advice on how Ukrainian nationals can seek shelter through the Ukrainian Family Scheme which can only be made by Ukrainians with family in the UK and can only be done online.
Mr Roberts says he also has concerns about safeguarding for both the host and guest, the lack of advice given to hosts by the government, what happens to guests who don't get on with their hosts.
He also expressed dismay that the scheme is not open to refugees form other areas such as Sudan, Syria, Afghanistan or Yemen.
Mr Roberts, however, says that Ukrainians may not be in a much better position if they were granted the status of asylum:
"If Ukrainians come here and claim Asylum, they would go into a system which is currently in a dreadful state because of poor governance and lack of investment."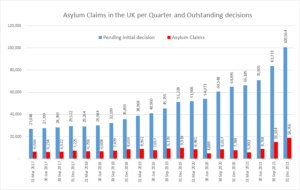 Over the last five years waiting lists for asylum applications have nearly quadrupled to 100,000 and waits can last years.
He added: "A couple of people have been waiting 20 years. Five or six is far from uncommon and at present everyone is waiting a year for their first interview.
"Add that to no permission to work, restricted access to language, poverty (£39 per week) and isolation and you have the perfect recipe for poor mental health and worse.
"Most of the 1500 people per year we currently work with are Asylum Seekers and 100 of those will be refused and destitute."