A giant mural of Beatles legend Ringo Starr has been unveiled on the street where he lived.
John Culshaw, a Liverpool-based artist, painted the artwork on Admiral Grove.
Starr lived there from the age of three until 23.
Before this he lived in Madryn Grove, where he was born in 1940 as Richard Starkey.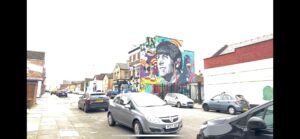 There was a reason why Ringo in particular was chosen, explained Mr Culshaw.
He said: "He's just so connected to Admiral Grove.
"He was also born nearby, and his mum worked in the building where the mural is painted when it was a pub."
The pub was The Empress which is now closed down.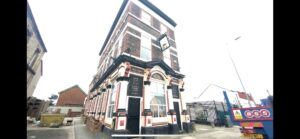 It featured on the front of cover of Starr's first solo album, Sentimental Journey, which was released in 1970.
Despite Starr being the main focus, Mr Culshaw was adamant it featured other Beatles-related imagery too.
He said: "the main point of the wall was we wanted it to be really colourful.
"So, we decided to do the Octopus, and fill the rest in from Yellow Submarine because we knew it would be so vibrant.
"It took about 10 days to paint, and everyone around around here has been really lovely and curious".